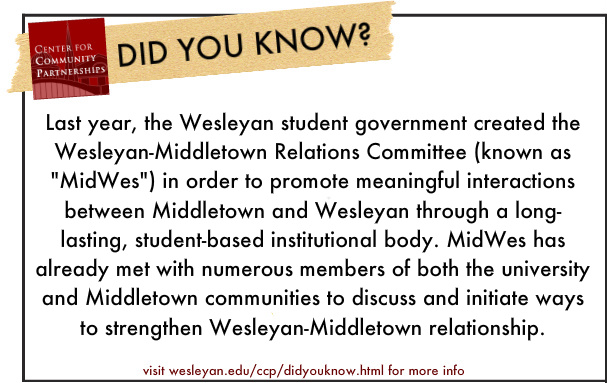 This week's fact details MidWes, a Community Outreach subcommittee of Wesleyan students who concentrate on developing the relationship between Middletown citizens on campus and off. From MidWes' website:
The Middletown-Wesleyan Relations Subcommittee (known as "MidWes") was founded in 2012 by a group of students who wished to further develop the relationship between Wesleyan University and the Middletown community. On both individual and community levels, MidWes aims to promote meaningful interactions between Middletown and Wesleyan through a long-lasting, student-based institutional body.
Since its founding, the committee has met with numerous members of university and Middletown leadership to discuss, initiate and incentivize more interactions between members of both town and university so as to strengthen ties between both communities. In particular, the subcommittee believes a stronger relationship between Wesleyan and Middletown can be achieved primarily through increasing / facilitatingpersonal and ongoing interactions between members of the university and the town. Furthermore, the committee strongly believes that such efforts must be done in a collaborative and, more importantly, a mutually beneficial manner. Lastly, these efforts must be done with an understanding of the history and present situation of Wesleyan-Middletown relationships.
Like the town-university relationship itself, the methods through which MidWes achieves these goals are regularly changing. However, MidWes should consistently: meet with both university and Middletown leadership; pair up student groups with related Middletown businesses and organizations; and attempt to break down incorrect stereotypes each community may have of the other. With all of these ideas and philosophies in mind, one of MidWes' goals is to raise Wesleyan student awareness of present-day Middletown, along with Middletown's history and Wesleyan's involvement with the town. Conversely, MidWes also strives to help Middletown residents interact more consistently with Wesleyan and its students. More than anything, MidWes hopes to create a symbiotic relationship between Middletown residents and the Wesleyan community, with each group serving and earning something from the other."