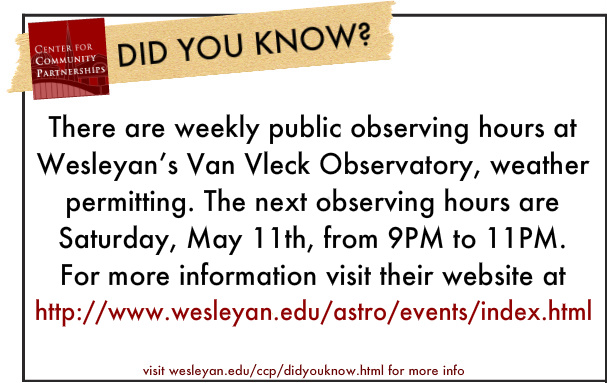 This week's post details the weekly public observing events at the Van Vleck Observatory. Situated in the middle of Wesleyan's campus, the Observatory plays host to a variety of astronomy-related events. From the Observatory website:
"MONTHLY SATURDAY NIGHT OBSERVING (RUNS ALL YEAR LONG)
Organized and hosted by the Astronomical Society of Greater Hartford (ASGH), this is a great opportunity to view the sky through our beautiful 20″ refractor. Refurbished in recent years in honor of Walter Scott "Scotty" Houston who used this instrument many nights, we can now share this telescope with the public on regular occasions. For details please visit the ASGH website.
2013 Schedule for public observing on our 20″ refractor:
May 11, 9:00pm-11:00pm
May 24, 9:00pm-11:00pm — Friday Commencement/Reunion Weekend Observing
May 25, 9:00pm-11:00pm — Saturday Commencement/Reunion Weekend Observing
June 15, 9:00pm-11:00pm
July 6, 9:00pm-11:00pm
August 3, 9:00pm-11:00pm
September 14, 9:00pm-11:00pm
October 12, 9:00pm-11:00pm
November 1, 9:00pm-11:00pm — Friday Homecoming/Family Weekend Observing
November 2, 9:00pm-11:00pm — Saturday Homecoming/Family Weekend Observing
November 9, 8:00pm-10:00pm
December 7, 8:00pm-10:00pm
January 4, 2014, 8:00pm-10:00pm
GROUP VISITS
Van Vleck Observatory sponsors day and evening group visits to our institution. Daytime tours (usually reserved for school groups) consist of a brief lecture on current astronomical events that can be viewed from one's back yard, a slide show, and a walk through of our facility. Evening tours are usually held on a predesignated evening, which may or may not coincide with Wednesday Public Observing, and are of a rain or shine, open-house nature. To schedule a group visit to the observatory, please contact Roy Kilgard. For Saturday observing, consult the ASGH website. For Wednesday observing, consult the Middletown weather forecast."