We're spreading the word for the Green Street Arts Center and PIMMS:
The Greening Green Street Mosaic Project started last year as a collaboration between the Green Street Arts Center AfterSchool Program, teaching artist and nationally known mosaicist Debora Aldo, and members of the Middletown community. Watch the project video from last semester. 
The goal is to create a common space to celebrate the integration of art, math, and science – a space that serves as a beautiful entryway to Green Street, a living laboratory for education programs, and an artful representation of our community here in the North End of Middletown.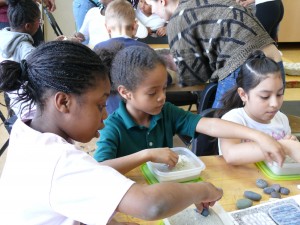 The Greening Green Street Mosaic Project continues this spring.
Debora and our teaching staff are developing garden-based activities for a series of elementary and middle school half days to explore the plant cycle, plant identification, weather cycle, pattern making, and use spatial skills to make the mosaics.
The AfterSchool students will have the opportunity to make their own pebble mosaics that will become a part of the permanent installation in front of the building. Every day they come to Green Street, the students will be able to see and show off their work.
To celebrate the project, we will have an unveiling as part of our Green Street Open House (part of CT Open House Day) on Saturday, June 14th, 2014. Save the date!
We are asking our community to come together and help with the project. There are lots of ways you can get involved. You can:
Volunteer to help with installation — come get down and dirty to install the heavy mosaics in our garden in late spring. Call or email Green Street at 860-685-7871 orgsac@wesleyan.edu if you are interested in helping us with installation in late spring/early summer.
This project is made possible by a CT Department of Economic and Community Development (DECD) Arts Catalyze Placemaking Grant.
To read more, check out the full blog post here.