Olayinka Lawal '15 was selected to receive an Enrichment Grant from the Patricelli Center for Social Entrepreneurship. This funding contributed to Yinka's French language education. As a member of the startup team launching JooMah, a social enterprise targeting employment and economic growth in sub-Saharan Africa, Yinka will utilize her skills with French-speaking clients across West and Central Africa. Read Olayinka's story below, and visit the PCSE website to learn more about our grant programs.
**********************************************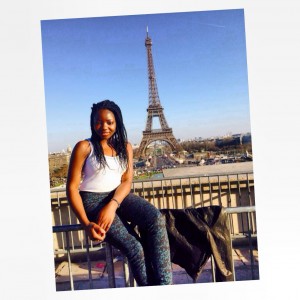 I embarked on a journey to Paris, France in January 2014 as a part of a study abroad endeavor. My reason for this endeavor went beyond just seeing a new world, or better yet, Paris itself. Rather, it was a quest to become a better businesswoman! As Co-Founder of an Africa-based company, Joomah, learning French was a necessity. Joomah is an online employment based platform that strives to connect employers and qualified candidates in Sub-Saharan Africa. As the lead strategist for West and Central Africa, I needed to become well versed in the French language, and so my journey began. I had studied general French before Wesleyan but my most serious studies began at Wesleyan. I knew that in order to solidify my confidence and skills in the language, I needed to be immersed in an environment that would challenge my abilities. While in Paris, I stayed in the 16th arrondissment with a host family and took classes (all in French) with Wesleyan's program and one at University of Paris, Diderot (Paris VII). I was completely surrounded by the French culture, and French speakers. Since I arrived in January, I would say that I have improved in my conversational skills by 87 percent. As I return to the States to continue work with Joomah, I feel more confident to work with the francophone African countries in our efforts to brand Joomah all across Africa. Merci beaucoup pour votre soutien. Je l'apprécie très beaucoup!