Long Lane Farm is TEN YEARS OLD this spring! This calls for a CELEBRATION!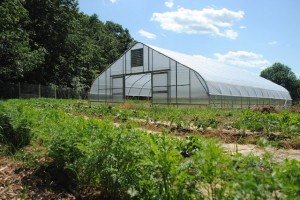 Please come from far and wide to help us celebrate the first ten years, Friday and Saturday, May 23 and 24th, 2014!
On Friday evening there will be a Long Lane 10 Year Anniversary Dinner under a tall white tent on the North College Lawn. Dinner will be cooked by current farmers with love using local, seasonal vegetables, including some from our very own Long Lane.   Suggested cost for a plate is $10, but you can pay more or less, whatever works for you! At the meal there will be a slideshow of pictures from the past ten years, and a sharing of reminiscences. Please RSVP to hsowden@wesleyan.edu if you plan to attend the dinner so we can know how much to cook!
On Saturday there will be an open house/ work day/ pot luck at the farm from 10:00 a.m. – 2:00 p.m. Current farmers and alumni will share skills and stories, working side by side, and enjoying a delicious pot luck lunch together.
At 3:00 pm Saturday afternoon there will be a WESeminar titled "Alumni in Agriculture"featuring alumni farmers Rachel Lindsay, Sophie Ackoff, and others to be determined, speaking on their experiences in agriculture at Long Lane and beyond.
To see these events on the official R&C schedule, follow this link.
***
What can you do before the big weekend?
RSVP! Email jkrugman@wesleyan.edu to say that you are interested in coming so we can know how many people to expect, and join the Facebook event here.
Find a place to stay! Current farmers will put up alumni farmers in our houses! Don't worry about motels (unless you want to). Just email jkrugman@wesleyan.edu to coordinate housing! Also tenting on the farm is permitted and encouraged.
Spread the word! Tell your friends and other farm alumni to join us for the festivities.
Share your skills! Suggest a farming skill that you would like to share with current farmers, or that you would like to learn at the Saturday farm open house/ work day/ pot luck.
Share your photos! Upload any old Long Lane pictures you have in this BEAUTIFUL PHOTO ALBUM  created by the magnificent Rachel Lindsay!
Thank you alumni and friends for keeping the farm going for so many years! Come celebrate yourselves and the farm! We're so excited, and we hope to see you soon!