With summer upon us once again, we are returning to our practice of highlighting some of the incredible events happening around Middletown each week. With the help of Arts2go.org, the Middletown Patch, and Wesleyan's calendar, we've put together a list of some of the incredible events happening this week. Get out for a study or work break, and enjoy the Middletown community!
Tuesday
Tuesday Music at Klekolo: Check in every Tuesday beginning at 7 pm for live music. The line-up changes weekly. If you want your coffee with music, chess, friendly conversation on any Tuesday evening, visit Klekolo! (7:oop, Klekolo)
Wednesday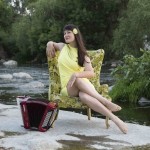 Jessica Fichot Quartet: Drawing from her French/Chinese/American heritage and her youth in Paris, L.A-based chanteuse and songwriterJessica Fichot performs original French chanson, Chinese 40′s swing, gypsy jazz and international folk. Following the release of two acclaimed albums "Le Chemin" and "Le Secret", she has toured throughout the U.S., China, Mexico, Canada and western Europe – backed by her fiery band (clarinet, guitar and upright bass), and armed with her accordion, toy piano and beautiful multilingual vocals. (7:30p, The Buttonwood Tree/$10)
Thursday
Writers Out Loud!: Talented prose writers of every ilk come to Writers Out Loud! to present up & coming works-in-progress, directly from their own pens. Join host, Cocomo Rock, and co-host, Al Bower, Jr. for an exciting literary slate. Each Second Thursday of every month, six phenomenal storytellers sign up seeking constructive critique of their latest works in progress. Come launch your experience of literary prose off that earthbound plane of solitary and cerebral and into the extraordinary heights of live and out-loud! You will never read—or write—quite the same again! (Doors open for sign up at 6:45, event starts at 7:15 at The Buttonwood Tree)

Connecticut at Work Film Series: Since You Went Away: When her husband leaves to fight in World War II, housewife Anne Hilton (Claudette Colbert) must struggle on alone to raise their two daughters, Jane (Jennifer Jones) and Bridget (Shirley Temple). Speaker: Jeanine Basinger, Chair, Film Studies Department, Wesleyan University and Founder of the Wesleyan Cinema Archives (7:00p, Wesleyan Center for Film Studies)
Friday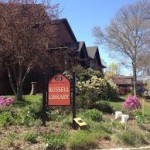 Friends of the Library Book Sale: The Friends of Russell Library will hold its monthly book
sale on Friday June 13 and Saturday June 14.  Be sure to stock up on books for summer reading,
books you can take on vacation and to the beach and leave for others to read.  In addition to recent fiction, the sale features children's books, and non-fiction in many categories, as well as DVD's and CD's for summer entertainment.  All purchases go towards library programs and benefit the whole community.
Argentine Tango with Gem Duras: Jorge "Gem" Duras has been dancing tango for 19 years and teaching for 11. He initially studied with the original cast members of the famous show Forever Tango in 1995, in particular the legendary Carlos Gavito. He then visited Buenos Aires numerous times to study ballet as well as advanced technique and stage tango with younger Forever Tango stars Jesus Velazquez and Francisco Forquera. Bring a friend and learn a new skill, or brush up on an old one! (Beginner's lessons at 7:30, First Church/$20-30)
Saturday
Green Street Arts Center Open House: COME SEE WHAT WESLEYAN'S GREEN STREET ARTS CENTER HAS TO OFFER! There will be an art exhibit, "Fragmented Landscape" by watercolorist Michelle Podgorski; an art and craft sale featuring the works of our visual artists: Meredith Arcari, Lindsay Behrens, Renee Soares, Roslyn Carrier Brault, Cookie Quinones, Claudia Wolf; music featuring our teaching artists from 1:00-3:00pm – Elizabeth Dellinger, Phil Zimmerman, Joseph Getter, John Nisbet, Chris Cretella; and an unveiling of the Greening Green Street Mosaic Project in the garden. There will be tours, door prizes, and more! (12:00p, Green Street Arts Center/$5)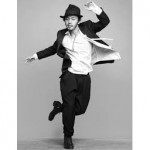 Kazunori Kumagai Tap Dance Performance: World class tap dancer Kazunori Kumagai accompanied by musician Joe Fonda will perform for all ages on Saturday, June 14 at 3pm in the Hubbard Room at Russell Library, 123 Broad Street, Middletown. Kazu lives in N.Y. C. and works as a fellowship artist of the Japanese government program. As a part of his "Tap the Future Project," he also tours Japan and teaches school children how to express themselves through tap dancing. His exciting and edgy style blends street dancing, hip-hop, and energetic acrobatics. He is hailed as "a Japanese Gregory Hines" and The New York Times says "Kazu Kumagai is a true tap artist." This program is generously funded by the Middletown Commission on the Arts. (3:00p, Russell Library)
Sunday
Food Not Bombs: Food Not Bombs shares food about 1 pm in front of the Buttonwood. Anyone is welcome. Consider yourself invited to help us prepare vegetarian food at the First Church on 190 Court Street at 11:30 am. (The Buttonwood Tree)
Poetry Potluck: Poetry Potluck is an opportunity for people who enjoy poetry to get together to share and discuss their favorite works. It isn't an open mike. Almost like a salon, it's a gathering for discussion and literary conversation using poetry as the focal point. It will occur on the third Sunday of each month. (4:00p, The Buttonwood Tree)
Monday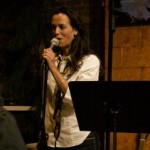 Anything Goes Open Mic Monday: The World's a stage … the mic is OPEN! This Open Mic is for YOU – the budding artist. Showcase your talents, nurture them with this supportive group. Recite a poem, sing a song, dance, read some spoken word, the microphone is yours for the asking. Community spirit prevails. We have congas and a piano or BYO instrument. Ends around 9:30 – 10pm. (7:30, The Buttonwood Tree)