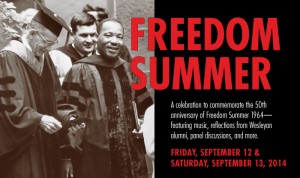 In the summer of 1964, over 1,000 volunteers from across the United States – many of them college students – traveled to the Deep South as a part of Freedom Summer, or the Mississippi Summer Project, to assist local civil rights workers in getting black Mississippians to the voting polls. Despite intimidation and violence from the white population, police, local authorities, and the Ku Klux Klan – including the murder of at least three activists – Freedom Summer organizers increased voter registration among African Americans, called attention to disenfranchisement,  and influenced the course of the Civil Rights movement.
2014 marks the 50th anniversary of Freedom Summer, and Wesleyan welcomes the community to celebrate the occasion with a weekend of music, panel discussions, reflections from alumni, and more. For a comparison of today's student activism with that of the 1960s, check out Professor Rob Rosenthal and Professor Lois Brown's recent essay in The Huffington Post.

Friday, September 12: Rolling Concert
6:00 pm
Location: Cross Street Dance Studio (160 Cross Street)
Performers: Unity Choir of Cross Street A.M.E. Zion Church
6:30 pm
Location: Olin Library Steps
Performers: Middletown High School Choir and Wesleyan Singers
7:00 pm
Location: Memorial Chapel
Performers: Children's Choir of Cross Street AME Zion Church; Dar Williams '89, Kim and
Reggie Harris

Saturday, September 13: Freedom Summer Symposium
Fayerweather Beckham Hall (45 Wyllys Avenue)
1:30 Panel: "Go South, Young Wes Men": Freedom Summer 1964 and Wesleyan Student Activism
Panelists: Ron Young '86, John Suter '67, Stephen Oleskey '64
Moderator: Ashraf Rushdy, African American Program, English,Wesleyan University
3:00 Panel: Unwavering Courage: Civil Rights Activists of Freedom Summer
Panelists: Penny Patch, Muriel Tillinghast and Gwendolyn Simmons*
Moderator: Anna Wasescha, President, Middlesex Community College
4:30 Keynote Lecture: Freedom Summer 50:  Redressing State Violence
Margaret Burnham, Professor of Law and Founder of Civil Rights And Restorative Justice Institute at Northeastern University
Related Events:
Wesleyan Special Collections and Archives: "Civil Rights Activism and Wesleyan" 
An exhibit featuring historic Civil Rights-era Wesleyan materials, documents, and photographs.
Friday, September 12: 3-5
Saturday, September 13: 9-12
Co-sponsored by the Center for African American Studies, Allbritton Center for the Study of Public Life, Olin Library and Special Collections, the Center for the Arts, the Office of Equity and Inclusion, Academic Affairs, Green Street Arts Center, and Cross Street A.M.E. Zion Church.
For more information on Freedom Summer, PBS offers a list of relevant readings, as well as videos and a photo gallery.