Wesleyan prides itself in raising "practical idealists" who are eager to work for social change after graduation. The goal is not just to do well but to do good and to build careers around the causes they care about. Four alumni with the common good at heart will return to campus on the evening of Wednesday, November 19 for a conversation on their career paths, the rewards and challenges of their work, and their experiences in various positions, fields and sectors. They'll share insights from the first years after college, as well as advice for current students seeking meaningful, impactful work.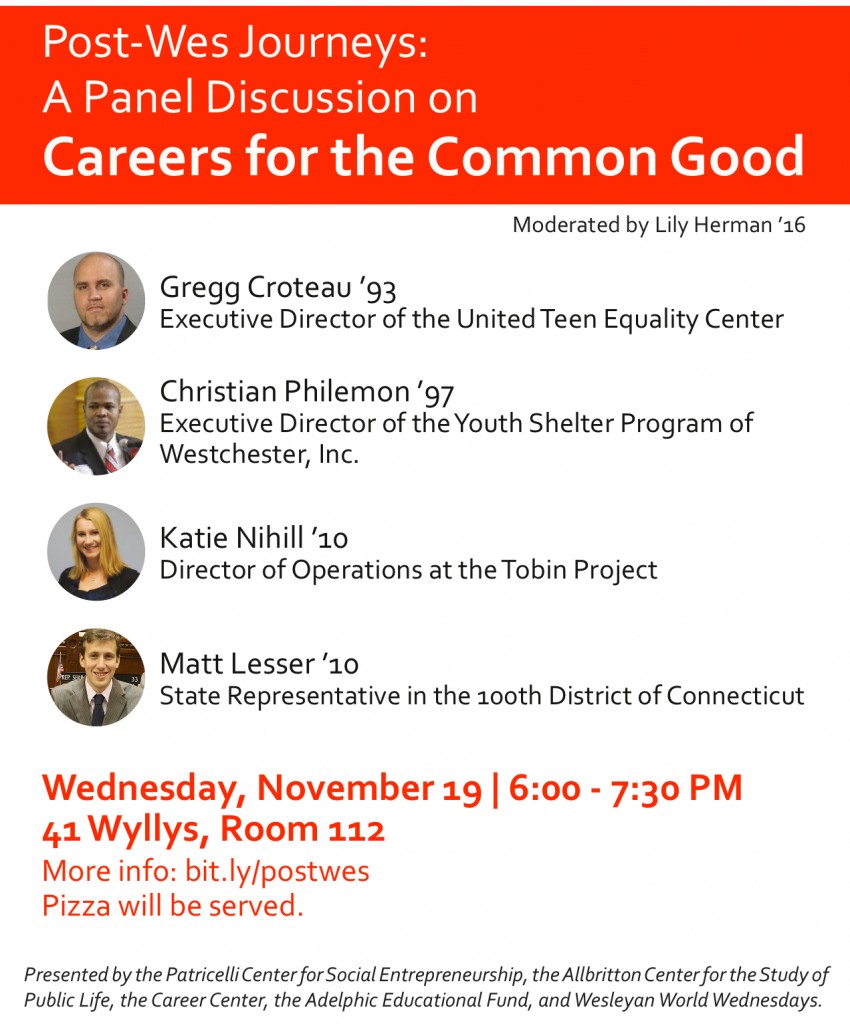 The Panelists:
Since 2000, Gregg Croteau has been the Executive Director of the United Teen Equality Center, a nonprofit serving proven-risk youth in Lowell and Lawrence, MA through street outreach, gang peacemaking, and workforce development programs. He majored in East Asian Studies while at Wesleyan and received his Master of Social Work degree from the University of Michigan in 1997. Prior to joining UTEC, he researched social work in Vietnam and became fluent in Vietnamese. Gregg has received the Fernando Miranda Outreach Educator of the Year Award and the Robert Wood Johnson Community Health Leader Award, and has also been appointed to the Governor's Advisory Council for Refugees & Immigrants and the Health Disparity Council in Massachusetts.
Holding a BA in Anthropology from Wesleyan, a Masters of Science from the Columbia University School of Social Work, and a Juris Doctor degree from the Quinnipiac University School of Law, Christian Philemon leads the Youth Shelter Program of Westchester as its Executive Director. The YSOW aims to interrupt the cycle of re-incarceration by providing a residential alternative to jail for young men ages 16 to 21. They participate in clinical, educational, and vocational programs and commit themselves to volunteer work so that they may return as positive and contributing members to their communities.
Katie Nihill currently serves as Director of Operations of the Tobin Project, a non-profit organization dedicated to fostering innovative social science research on public policy issues. As part of the executive leadership team, Katie manages the organization's day-to-day operations, budget, accounting, staff resources and investments. Katie graduated from Wesleyan University in 2010, with a major in Government and American Studies and a certificate in Environmental Studies. During her time at Wesleyan, she was an Arts Administration Fellow at the Green Street Arts Center.
As of this past election, Matt Lesser will be serving his fourth consecutive term as State Representative in the 100th District of Connecticut, including Middlefield, Durham, Rockfall, and parts of Middletown. He was first elected to this position in 2008, while still a student at Wesleyan, and he had been elected to Middletown's Planning and Zoning Commission in 2007. Previously, he worked for the Democratic National Committee, on campaigns for Chris Dodd and Barack Obama, at the Brookings Institution Center on Urban and Metropolitan Policy, and at the Legal Aid Society of the District of Columbia. In addition to serving as State Representative, Matt is also the Executive Director of the Cancer Support Community of Southern Connecticut.