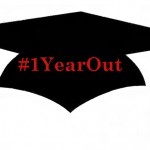 1 Year Out is an interview series highlighting alumni from the class of 2014 who are engaged in public service, entrepreneurship, or nonprofit work in any capacity- through their employment, a volunteer position, or on the side. 
How are you involved in public service, entrepreneurship, or nonprofit work?
I work for Early Intervention in Provo Utah with Developmentaly Delayed kids as a Developmental Specialist
How did you get there?
A friend of my mother's encouraged me to apply after spending some time teaching English to children in Italy. 
Describe a typical day at your position.
I visit between 5-8 families in their homes for 45 minute appointments working with families and suggesting different strategies to try during daily routines to encourage independent sitting, independent walking, or communicating needs depending on the families' concerns for their child. Then we try the strategies while I'm there and coach parents how to assist their child. Then we write goals for the month how to implement those strategies until my next visit. About one visit a day I'll co-visit with a speech therapist, occupational therapist, physical therapist, or a nutritionist on our team.
How do your race, gender, class background, sexuality, and other identities factor into your work?
We work with families from all different backgrounds in their home. It's important to work within their expectations and norms. There is a lot of trust between providers and families. Our strategies are most effective when they work within the families' existing routine. It's essential that we come into their home with an open mind willing to adjust to their concerns and routines.
What is unexpectedly great about your job? 
The trunk of my car is ALWAYS full of baby toys, puzzles, bouncy balls, and soft blankets. 
What's the hardest thing about your position that you're willing to share?
Working with medically fragile infants, and having conversations with concerned parents reminding them to make realistic goals within realistic time frames. 
What are some characteristics that would make your type of work hard for someone?
It's very mobile and busy. Some days I drive to 9 different houses back to back and roll on the floor with little babies at each. It can be tiring. It's also difficult to remove yourself emotionally from families that are struggling and keep a professional distance from difficult situations.
Does the compensation you receive in this field meet your financial needs? If not, how do you make ends meet?
Yes.
What's the best advice you've received?
Change takes time. 
Tell me about a time you felt really effective making change in the world.
Every time a parent tells me they are relieved.
What would you recommend to current students considering work like yours?
Spend lots of time watching people in the field that you are interested in. At first, I didn't speak Italian and spent a lot of time watching Italian children interact. It taught me to pay attention to their cues, their needs, and how to help them.
If Wes students or recent grads have questions about working in your field, could they contact you?
Thank you so much for sharing your experiences with us!
If you are a graduate of the Class of 2014 working in public service, entrepreneurship, or nonprofits and would like to be featured on the blog, please email me.