Three experts and a Wesleyan student will lead a panel discussion on "After Charleston: Next Steps for the Movement for Social Justice" at 8 p.m. Sept. 17 in Memorial Chapel. The event is sponsored by the Allbritton Center for Public Life, the African American Studies department and the Office of Equity and Inclusion. .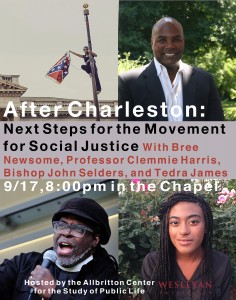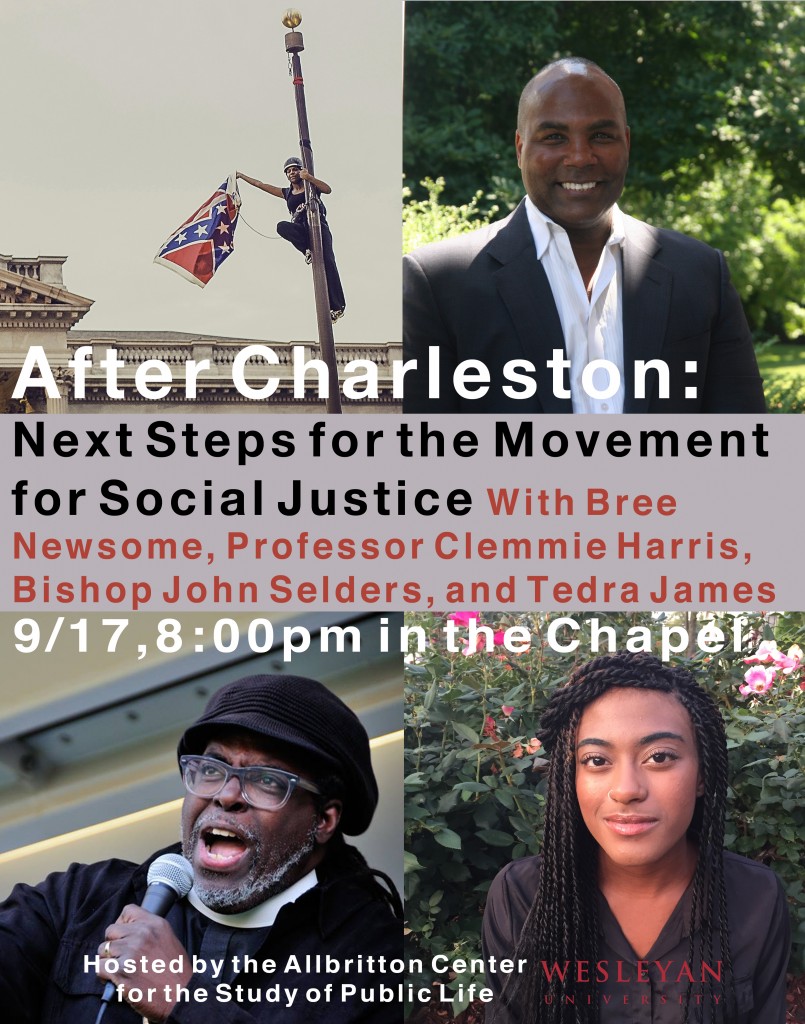 The talk will feature Clemmie Harris, visiting assistant professor of African American studies; Tedra James '18; activist and filmmaker Bree Newsome and Connecticut Bishop John Selders.
"The idea is to spur conversation with the audience about the killings in Charleston, reactions to killings, debate over the Confederate flag, and protests in Ferguson," said Rob Rosenthal, director of the Allbritton Center for the Study of Public Life, John E. Andrus Professor of Sociology. "The question that each speaker will address is, 'What now? Where are we in this long, long, long struggle for social justice—that is, equal rights, equal opportunities for everyone in the country—and what needs to happen next?' Each panelist will speak for about 10 minutes, and can respond to anything the other speakers said. Then it will be up to the audience to state their own opinion, and ask questions of the audience."
Clemmie Harris earned a PhD in history from the University of Pennsylvania. He holds graduate certificates in urban studies and Africana studies and has received fellowships for research in areas such as democracy, citizenship, and constitutionalism and Africana studies. His research interests include the long African American freedom struggle with an emphasis on electoral and protest politics, race and social inequality in the 20th century industrialized urban north; African American political leadership, and black urban political economy.
He is currently working on two book projects: We Will Be Heard: The Struggle For Political Recognition and Civil Rights in Philadelphia, which examines the African American quest for electoral power and community control from 1911 to 1984. The second book project is a biography of W. Wilson Goode, Sr., that chronicles the life and political career of Philadelphia's first black mayor up to the age of Obama.
From 2008 to 2011, Harris served as a high level policy advisor to former New York governor David A. Paterson. His leadership helped influence a series of racial, social, and economic reforms to include: drug law reform, New York City's anti-racial profiling policy, economic justice initiatives-especially the development and enactment of 2010 Business Diversification Act; the development of the state's first Chief Diversity Officer, and the establishment of one of the strongest minority and women business enterprise programs in the nation.
Tedra James is a sophomore at Wesleyan and a prospective double major in neuroscience and behavior and African American studies. James has interned for WE ACT for Environmental Justice and is currently working as a Student of Color Coalition Intern with Student Activities and Leadership Development. She has been both passionate about social justice and enthralled by science as long as she can remember. Her focus during the past year has been concerned with intersections of feminism and race issues (or womanism), mental and environmental health disparities for low-income communities of color, and strengthening global solidarity between Black Americans and victims of imperialism.
The Right Reverend Doctor John L. Selders, Jr. is an ordained minister serving in the United Church of Christ, the Amistad United Church of Christ in Hartford and Trinity College.
Bishop Selders is a founding member of Moral Monday CT, a grassroots statewide organization committed to a wide range of social justice issues. Bishop Selders travels across the country speaking, lecturing and conducting workshops in the areas of race, anti-racism and internalized oppression. He is a teacher, lecturer, workshop leader, an HIV/AIDS educator and activist with numerous citations for his work. He serves on a number of boards and works with several organizations both locally and nationally whose work is ultimately concerned with the healing of humanity.
Bree Newsome is a graduate of New York University's Tisch School of the Arts where she received a BFA in film and television. While still in high school, Newsome created an animated short, THE THREE PRINCES OF IDEA which earned her a $40,000 scholarship from the National Academy of Television Arts and Sciences. In August 2012, Newsome wrote and recorded a rap song, "SHAKE IT LIKE AN ETCH-A-SKETCH!", skewering presidential candidate Mitt Romney and criticizing the Republican Party for policies that promote classism and bigotry. A staunch advocate for human rights and social justice, Newsome was arrested last year during a sit-in at the North Carolina State Capitol where she spoke out against the state's recent attack on voting rights. She continues to work as an activist and youth organizer in North Carolina, serving in the capacity of Western Field Organizer for the youth-led organization Ignite NC.
Read Newsome's statement after she scaled the flagpole outside the South Carolina state capitol and removed the Confederate battle flag.
The event is free and open to the public. Seating is first-come, first-served.