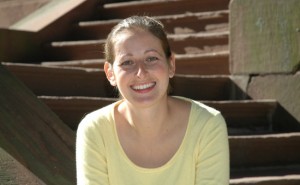 Each year, Campus Compact selects a senior faculty member from one of its member institutions for the Thomas Ehrlich Civically Engaged Faculty Award. The award honors a professor who has produced high-quality academic work that is grounded in deep community engagement, demonstrated leadership within their university, and created lasting impact for the public good. 
This year Wesleyan's own Associate Professor of Psychology Dr. Anna Shusterman reached the final round for this national award for her prize-winning work in cognitive development research, service-learning courses, and establishment of Middletown's Kindergarten Kickstart program.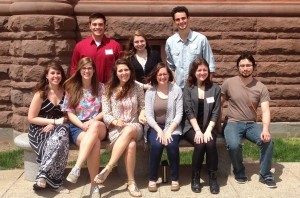 Through her cognitive development lab at Wesleyan, Professor Shusterman studies how children's language influences their acquisition of numerical concepts by engaging children in fun and educational math games. Her students have been involved in community events and festivals in Middletown where they invite children to participate in games created in the laboratory.
Since 2009, Professor Shusterman has been teaching a service-learning course for students to continue this research, "Research Methods in Education and Cognitive Development." In addition to work inside the classroom, students volunteer two hours/week in a preschool to assist the teacher and run a math activity station for the kids. 
In 2012, in a partnership between the Psychology Department, Office of Community Service, Macdonough Elementary School, the Family Resource Center, Middlesex Coalition for Children and the North End Action Team, Professor Shusterman developed the Kindergarten Kickstart program to provide a play-based preparatory summer program for underprivileged kids entering kindergarten. Their educational philosophy is described below: 
Our classroom culture is democratic, collaborative, and participatory, and we as teachers strive to act as guides rather than authoritative supervisors. At Kindergarten Kickstart, we foster children's abilities to explore new terrain, ask questions, plan actions, recall events, track cause and effect, solve problems, process emotions, regulate behavior, interact socially, and participate in a culture of kindness and empathy.
Since 1995, the Thomas Ehrlich Engaged Faculty Award has honored faculty members whose work jumps the boundaries of the university and delves deeply into public life. Congratulations to Professor Shusterman for being named a finalist this year.