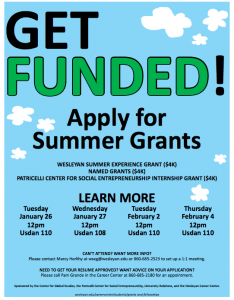 There are three upcoming info sessions about opportunities for summer funding! Stop by for information about the Wesleyan Summer Experience Grant, Named Grants, and the Patricelli Center for Social Entrepreneurship Internship Grant. 
The information sessions will take place: 
1/26, 12pm, Usdan 110 
1/27, 12pm, Usdan 108 
2/2, 12pm, Usdan 110
2/4, 12pm, Usdan 110 
Wesleyan Summer Experience Grants 
Wesleyan Summer Experience Grants assist financial aid students in financing summer experiences related to their career interests. Awards are made up to $4,000 per experience. Grants are given for all types of summer experiences that are career focused, ranging from the corporate world to non-profit; in the U.S. and abroad. The internship should be full-time for a minimum of 8 weeks.
HOW TO APPLY
To apply eligible students must fill out a complete grant application (including the budget form on page 2) and submitt both documents along with their professional resume to the Wesleyan Summer Experience Grant posting in CareerDrive. Please note your resume must be approved by a Wesleyan Career Counselor in order to apply to the Summer Experience Grant. 
DEADLINE TO APPLY:  MARCH 3, 2015, 11:59 PM
To read more about named grants, visit the Career Center website. Named grants support students in many summer internship fields, including business, architecture, environmental studies, social justice, and public policy. 
$4,000 grants for Wesleyan sophomores and juniors currently receiving need-based financial aid who plan to do socially innovative or socially responsible work during summer break. One internship grant per year is provided by the Norman Ernst Priebatsch Fund for Entrepreneurship established by Ilene Rosenthal '74 P'17 and Steven Rosenthal P'17 in memory of Norman Priebatsch, a serial entrepreneur and lifelong philanthropist. To apply, follow the procedures for the Wesleyan Summer Experience Grant program outlined in detail here.