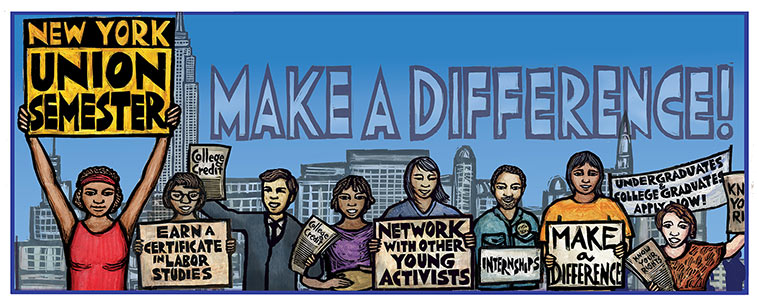 Live in New York City. Defend workers' rights. Get paid and earn college credits.
New York Union Semester is full-time semester-long program that combines rigorous academic study with first-hand experience within the labor movement. As interns, students learn hands-on how unions and labor organizations fight for workers' rights by contributing to the movement themselves. During class time, students analyze the experience they gain in the field by studying the history of and current debates within the U.S. labor movement. The program starts with a 1-week orientation, followed by 16 weeks of classes and an internship. 
Students receive a stipend of $7,000 to cover tuition and living expenses, while interning four days a week at a union or worker-rights organization. During the evenings and all-day on Fridays, students take classes with the renowned Labor Studies faculty at the Murphy Institute.
Undergraduate students earn 16 credits and are awarded a Certificate in Labor Studies, and graduate students earn 12 credits and are awarded a Graduate Certificate in Labor Studies.
Apply by June 1, 2016 for the 2016 fall semester (August 25, to December 21).  
In order to qualify for admission to New York Union Semester, undergraduate applicants must have a minimum cumulative GPA of 2.5, and must have successfully completed 45 college credits before the start of the New York Union Semester. Graduate applicants must have a bachelor's degree or a GPA of a 3.0 or higher in a post-baccalaureate program.
To speak with the NY Union Semester Coordinator, Sarah Hughes, call (212) 642-2075 or email unionsemester@sps.cuny.edu.