Field Representatives Wanted: June 1-22, Northern Ghana
Volunteer Opportunity posted by: Saha Global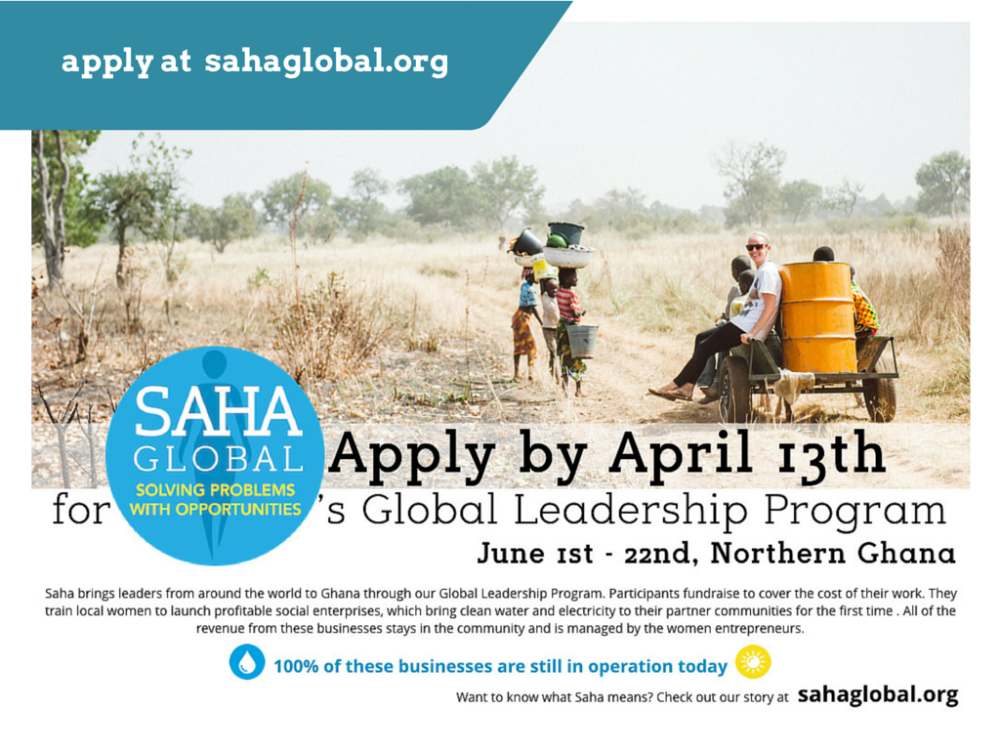 Description:
Saha Global works with communities in Northern Region, Ghana to tackle basic needs deficits by starting small businesses. Over the past few years, Saha has worked with hundreds of college students and young professionals to develop their leadership skills and learn about international development, environmental sustainability and public health while building community access to basic services in rural Ghanaian villages.
During our Global Leadership Program, participants learn to train local women entrepreneurs to set up sustainable water and solar businesses, bringing clean drinking water and electricity to partner communities for the first time ever.
Saha is currently looking to fill Field Rep positions for our work in Ghana from June 1st – 22nd, 2016. As Field Representatives for Saha, you will work with our team to fundraise the cost of setting up a water or solar treatment business, then join us in Ghana to help local women set-up and run the business.
Since 2008, we've partnered 338 young leaders with 84 communities to open 84 water treatment and 20 solar businesses that employ 207 women entrepreneurs and reach over 40,000 people. 100% of these businesses are still in operation today.
How to apply
Learn more about program requirements and cost, and submit your application at sahaglobal.org. Exceptional candidates will be invited for a phone interview with our leadership team. Applications close April 13th or when positions are filled.
Please email kathryn@sahaglobal.org with questions.