Dic Wheeler '81, Executive Director of ARTFARM, has several great opportunities to share for Wesleyan students interested in theater and circus performance. ARTFARM is a non-profit organization which cultivates high-quality theater with a commitment to Simple Living, Environmental Responsibility and Social Justice. They are looking for student volunteers (and the first position is work-study through the Oddfellows Playhouse) for this school year :
Work-study or volunteer position: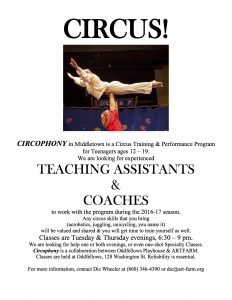 Teaching Assistants and Coaches for the CIRCOPHONY Circus Training and Performance Program. Tuesday and Thursday evenings, 6:30 – 9 pm. This is a circus-training program for teenagers aged 12-19. They are looking for anyone with circus performance experience to volunteer (or get paid if work-study eligible) for one or both classes each week through the 2016-2017 school year. Classes are held at Oddfellows, 128 Washington Street. Reliability is essential.
Volunteer positions:
Teaching Assistants for School Residency programs at Woodrow Wilson and Keigwin Middle Schools
.
Tuesday
&
Thursday
afternoons,
4 – 5 pm
, starting
October 18
. Assist ARTFARM Teaching Artists in Circus Arts Enrichment programs at both Middletown Public Middle Schools. Circus skills
not
required, just enthusiasm for teaching and being with middle schoolers doing fun and challenging physical activities. 
ARTFARM Grant Writing/Development Internship. For someone interested in Arts Administration, Writing & Development. Work with a small local arts non-profit to assist in raising funds to "cultivate high-quality theater with a commitment to simple living, environmental sustainability and social justice."  Skills acquired or developed may include writing, budgeting, impact measurement, Member & Board development, and event planning. 2 – 4 hours per week.
ARTFARM Costume/Prop Shop Coordinator. For an organized person who loves the accoutrements of theater and circus. Work with the Artistic Director to keep ARTFARM's collections of costumes, props and equipment well-organized and accessible. Update and upkeep systems for storage and organization; manage loans and rentals; provide regular loving attention to a barn full of stuff for a few hours a week.
If you are interested in any of the positions, please contact Dic Wheeler (860-346-4390 or at dic@art-farm.org)