From Nicole Stanton '15 and Kate Weiner '15 of Loam Magazine, on the uncertainty of the years ahead and what we can do to support one another and the planet.
To our beloved supporters:
2017 is going to ask a lot of us as stewards of the earth. With the Trump Administration just two weeks away from taking office, we're faced with unprecedented threats to the health of our climate and our communities. It's vital that now, more than ever, we act from hope and not fear (thanks Michelle Obama for that beautiful reminder!) And it's vital as well that we work in tandem with multiple movements to build a better world. The last few months have shown us how much hate exists in our country but also how much radical, world-building love. At Loam, we believe we can channel that love into positive ecological change. 
With more than 22,000 readers, we are capable of doing a whole lotta good. So just how can we work together? Here's our plan in the new year: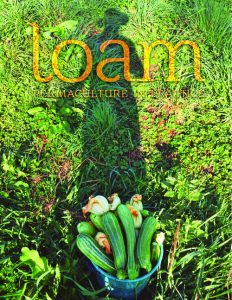 CREATE. Our next carbon neutral print issue of Loam, Permaculture in Practice, is a toolkit for radical change in the guise of a work of art. From exclusive content from the folks at The Tiny Mess to an interview with local food advocate Cyrus Sutton to a vibrant photoessay on the People's Kitchen Collective, this issue of Loam is particularly rich in recipes, stories of resilience, herbal how-tos, and strategies for sustainable living. And in anticipation of the Inauguration, when you pre-order a copy this week, we will donate 10% of sales to the NRDC, an incredible organization working to heal our environment. 
COLLABORATE. This year, we're moving from magazine into movement. We'll be partnering with non-profits like The Ecology Center, Be Zero, and Island Earth on diverse retreats, events, and workshops to provide folks with the tangible tools to live sustainably, lobby for environmental change on a local level, and more. 
CULTIVATE. Creativity is key to thriving even in the face of fear. We're going to continue to multiply opportunities to garden, make, and co-create for our beloved readers (like you!) whose support perpetually nourishes us and world.
Let's embody hope, fearlessly.
With all our loamy love,
Nicole & Kate
@loammagazine