Applications are now open for two exciting courses that provide a deep dive into the realm of social impact and social entrepreneurship work. Check out the slide decks to learn more, attend an information session, and fill out an application by 11:59 pm on April 12.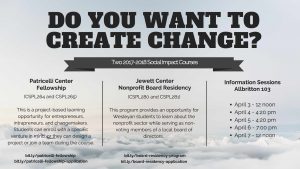 (click here for a PDF version of the poster to share with your friends and colleagues)
The Patricelli Center Fellowship (CSPL264 and CSPL265) is a year-long, project-based learning opportunity for entrepreneurs, intrapreneurs, and changemakers. They are seeking highly-dedicated students who wish to take a deep dive into social impact work. Some students enroll with a specific venture in mind, while others designed a project or join a team after the course begins. Contact Makaela Kingsley with any questions.
The Jewett Center Board Residency Program (CSPL280 and CSPL281) provides an opportunity for Wes students to learn about the nonprofit sector while serving as non-voting members of a local board of directors. In addition to a weekly lecture on campus, we got to attend board meetings, actively participate in board committees, and complete board-level projects. Contact Cathy Lechowicz with any questions.
Information Sessions (for both courses, to be held in Allbritton 103):
Monday, April 3 – noon

Tuesday, April 4 – 4:20 pm

Wednesday, April 5 – 4:20 pm

Thursday, April 6 – 7:00 pm

Friday, April 7 – noon