Engage Today: Bridging the Ballot and the Block is a half day conference designed to highlight local leaders activating voters on the ground, as well as students engaged in political activism on campus and beyond.
Wesleyan has a long history of providing opportunities to enhance the political education of our students through community engagement. Wesleyan's Civic Action Plan underscores our goal to "prepare our students to engage in civic participation throughout their lives." The elections of 2018 are a crucial moment for our country and the Jewett Center for Community Partnerships aims to bring community members together to discuss issues affecting our local electoral landscape.
Below you will find the conference schedule, information on our speakers, and a link to register. This event is free and open to the public.
10:00 am: Keynote by Eva Bermudez Zimmerman
11:00 am: Breakout Sessions

Eva Bermudez Zimmerman and Wildaliz Bermudez – Road to Rights
Jeremy Stein – Gun Violence Prevention: Making CT Safer
Lorenzo Jones – The Unifying and Transformative Potential of Criminal Justice Reform Organizing

12:30 pm: Lunch and Panel – Dispatches From the Field: Reflections on Campaign Organizing
1:30 pm: Closing
Register Here: https://bit.ly/2Rfc1Bv
Facebook Event: https://www.facebook.com/events/924900147704810/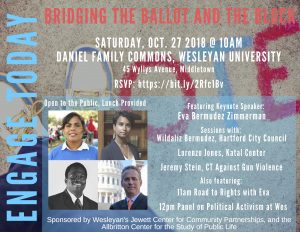 Engage Today: Bridging the Ballot and the Block
October 27th, 10:00-1:30 pm
Daniel Family Commons, 45 Wyllys Ave.
Free, and open to the public
Eva Bermudez Zimmerman first got involved with direct grassroots organizing by canvassing in with CONNPIRG Connecticut Public Interest Research Group organizing for environmental awareness. Those opportunities now 13 years ago fueled her desire to help
be part of changing her community rather than the sidelines. She's volunteered for community groups like CSS/CON one of the regional zoning groups in Hartford serving as Treasurer, Connecticut Center for a New Economy and Connecticut Citizens Action Group,
Danbury Rising to name a few.
In 2015, Eva was awarded Latina Citizen of the year by the Connecticut General Assembly for her outstanding activism navigating 7000 Connecticut residents to health insurance through the Access Health Marketplace. She held enrollment
fairs throughout the state during her weekends off to try to connect as many people possible with the opportunity to get covered on affordable health care plans. In the same year, Bermudez Zimmerman received the Ella T. Grasso Woman Leadership Award by the
Democratic Party for her leadership.
Eva is a fierce champion for Connecticut people. She brings forth governing experience having served as a Newtown Legislative Council member from District II in 2014-2015. Bermudez Zimmerman also served on the Secretary of the Democratic
State Central Committee where party stalwarts recognized her leadership and potential.
Eva recently stepped up to run for the role of Connecticut's Lt. Governor. Bringing her understanding of legislative processes, and the mechanics of Access Health, she was well equipped for the job. Eva made her first run for statewide office after winning support of 40% of delegates to the state Democratic convention in May. Although she did not win the election, Eva Bermudez Zimmerman was the first Latina to make primary for statewide office in Connecticut. She did so with endorsements from Connecticut AFL-CIO, AFTCT, SEIU, United Auto Workers, Working Families Party, and Our Revolution. Since the election, Eva has continued to commit to creating lasting change for Connecticut residents and is working to support progressive candidates and policies.
Wildaliz Bermudez is a Hartford native and community activist. As an original Sheff v. O'Neill plaintiff, she has spent her life fighting to improve public schools. Wildaliz has campaigned with Hartford Rising to protect and strengthen free and equal education for all.
Wildaliz firmly believes health care is a fundamental human right, and she has spent years advocating for universal health care. She took this desire to create a better American health care system to her next job at Eastern Area Health Education Center in Willimantic. She was a Navigator Coordinator for the Obamacare/Access Health CT roll out in Connecticut, managing 18 Assisters for health care enrollments in more than 38 CT towns.
During her professional career, Wildaliz has earned positions of public trust. She started working for the City of Hartford in 2009 in the Mayor's Office for Constituent Services. Her job required her to attend neighborhood meetings in the south end and to help constituents with problems and concerns. Hyacinth Yennie and the Maple Avenue Revitalization Group recognized her effort with a Community Service Award in December 2012.
Currently, Wildaliz serves as the Communications Director for the CT League of Conservation Voters. She is passionate about promoting environmental awareness and bringing forth best practices at the state and municipal level to conserve our planet's resources.
Wildaliz has served her community on non-profit boards like the Connecticut Landmarks Society, the Center for Latino Progress and the Roberto Clemente Tribute Committee. She has co-hosted on the Cafe Con Luis segment on the Analeh Show on Univision.
Wildaliz earned her Bachelor's degree in Latin American and Caribbean Studies from Trinity College and her Master's Degree in Environmental Science Education from La Universidad Metropolitana in Puerto Rico. She is happily married and lives with her spouse in Hartford's Asylum Hill neighborhood.
Lorenzo Jones is the Co-Founder and Co-Executive Director at the Katal Center for Health, Equity, and Justice which works to strengthen the people, policies, institutions, and movements that advance health, equity, and justice for everyone.
For nearly 15 years, Jones has served as strategic advisor and consultant to criminal justice and drug policy reform organizers and campaigns around the country. Mr. Jones has trained advocates from dozens of states in the U.S. and Canada, Brazil, Hungary, and Poland.
From 2005 – 2016, Jones served as the executive director of A Better Way Foundation (ABWF), a Connecticut-based organization that uses advocacy and organizing to build power in urban, suburban, and rural communities most affected by mass incarceration, the drug war, and the inequitable access to resources. During his tenure, ABWF made community organizing a fundamental part of their policy reform strategy – building campaigns that ran the spectrum of criminal justice and drug policy reform objectives. ABWF boasted an impressive list of victories, including reforming Connecticut's cannabis laws – including decriminalization of marijuana and passing a medical marijuana bill; establishing racial and ethnic impact statements for criminal justice legislation; passing harm reduction and overdose prevention laws, including expanding naloxone access and access to clean syringes; banning the box in CT to reduce employment discrimination for people convicted of felonies; ending mandatory minimums; and more.
In 2013, in an effort to train a new generation of community organizers in Connecticut, Jones led a partnership with the Perrin Family Foundation to build and launch the innovative BLOC program — Building Leadership and Organizing Capacity – which is a training cohort of young community organizers in Connecticut. BLOC is now the flagship organizing training program at Katal.
Jones's leadership strategy focuses on teaching everyday people that they can make the change they want to see, and helping organizers understand the political terrain on which they operate.
Jeremy Stein is the Executive Director of CT Against Gun Violence. His expertise in gun violence prevention stems from his more than 23 years of experience as a litigator.
After graduating from Emory University School of Law, he served as a prosecutor with the Attorney General's Office for the District of Columbia, where he worked on gun prosecutions with many different police agencies including the ATF, FBI, Secret Service and Metropolitan Police Department to name a few.
Jeremy saw the need for more community based initiatives and was the chief attorney for the DC Juvenile Drug Court, a ground breaking initiative that established an alternative to incarceration in our nation's capital. Additionally, he served as judicial law clerk for the Honorable Patricia A. Broderick in DC Superior Court. He also served as an assistant public defender with the Maryland Office of the Public Defender, in its Baltimore City felony trial division. Jeremy also served as civil litigator for 13 years, having tried cases in Georgia, Connecticut, DC, Maryland and New York.
Most recently, Jeremy was the managing partner of a defense litigation firm, managing both the NY and CT practices. Following the October 1, 2017 mass shooting in Las Vegas that killed 58 people, CAGV quickly mobilized its supporters to lobby legislators to ban "bump stocks" The bill passed in May, 2018. The legislative victory was the first under Jeremy's leadership as Executive Director, a role he took on in January 2018.