In September 2018, the JCCP launched the Student Political Engagement Fund to support students to do political campaign work over Fall Break. Grantees were given up to $500 to do work locally, in their home communities, or beyond. Read other reflections here, and visit the JCCP website to learn more about our other programs.
---
Rachel Williams '19
Major(s): College of Letters and Feminist, Gender & Sexuality Studies
Hometown: Johns Creek, GA
Location of Political Action: Hartford, CT
Organization: NARAL Pro-Choice Connecticut
Angie Fike '21
Hometown: Berkeley, CA
Location of Political Action: Hartford, CT
Organization: NARAL Pro-Choice Connecticut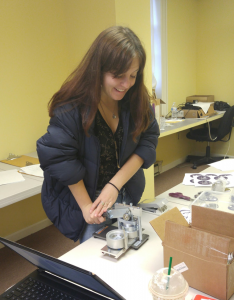 Over this Fall Break, we volunteered with NARAL Pro-Choice Connecticut in Hartford. Both of us are involved with Wesleyan's Clinic Escorts group, which is how we initially connected with the NARAL office.
Currently, NARAL is focused on the upcoming midterm elections, and we did a lot of work around the candidates NARAL has sponsored in Connecticut. We made "I ♥️ Pro-Choice Voters" buttons and attended a phone banking event on behalf of NARAL, making calls in support of Democratic Candidates Jillian Gilchrest and Beth Bye. It was energizing to be in an environment with a bunch of other volunteers trying to get people to the polls and to support pro-choice candidates.
We also helped with donor efforts by writing thank you notes to community members who have given to NARAL. We called members of Connecticut's NARAL branch and informed them of upcoming events and the importance of showing up during election season. This action showed us the importance of individual outreach and personal connection in larger political movements.
During our time at NARAL, we learned about the inner workings of a small non-profit, and we were able to participate in important efforts around the upcoming elections. It was a great experience to do this important work and learn from the great people we met there.