---
Anthony Price '20
Major(s): Government & American Studies
Hometown: Cleveland, Ohio
Location of Political Action: Meriden, Connecticut
Campaign: Jahana Hayes for U.S. Congress
Here's why we need the 'outsider' candidates.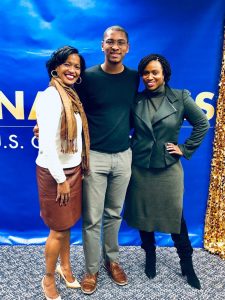 There are people from all walks of life who are qualified to run for office. However, in our current political system, being considered an "outsider candidate" or a contender without political experience can pose insurmountable obstacles.
This election season, I set out to help these outsiders get elected to public office. Here's why.
While the outcomes of the 2016 elections and the international attempts to interfere in our democratic process motivated some people to get involved, my involvement was motivated by something earlier: the 2012 elections.
Even though I was not eligible to vote in 2012 when I was 15 years old and a freshman in high school, my peers and I volunteered on President Obama's campaign in Cleveland, Ohio. Among the tasks I was given, I most enjoyed registering people to vote to knock on the doors of my neighbors, encouraging them to get involved.
There were many lessons I learned from this process- not only seeing the possibility that America could re-elect the first African American President but also the power in mobilizing others to take action for themselves as well. The same actions in mobilization are needed in both our upcoming and future elections.
I took those learned lessons and applied them this fall when I volunteered for the campaign of an exciting but "outsider" candidate: Jahana Hayes, the Democratic candidate for Connecticut's 5th Congressional District. This experience built upon the lessons I learned in 2012.
Here are some specific things I took away from it:
1. Character matters even when no one is looking.
Every small action of the candidate and their campaign volunteers contributes to the success of the movement.
2. Disruption is important to evolution.
Good or bad, we see how disruption can give change to our institutions and make us aware of whose voice is not included. Those who take risks to disrupt normative systems shed light on obstacles and concerns of the voiceless.
3. Have hope regardless of the storm.
Hope is a necessary component. Throughout American history, hope has been the guiding force in promoting and advancing social change.
Wesleyan has provided me a better understanding of our democratic process. Through both class discussions and real-world experiences, each year I have become more confident about pursuing a career in public service.
Democracy lies in each and every one of us. The ways and which our institutions evolve depends on both our ability or inability to participate. I believe my experiences and involvement in our political process, both on and outside of campus, has not only made me an engaged citizen but also create a small impact in enhancing the values of America as well. We need more initiatives like the Jewett's Center Student Political Engagement Fund that encourages others to get involved.