Kofi Ofori-Darko '20 was selected to receive a Conference Grant from the Patricelli Center for Social Entrepreneurship. With this grant, Kofi traveled to North Carolina State University to attend Consult Your Community's National Conference. You can read Kofi's reflection below, read past grantee reflections here, and visit the PCSE website to learn more about all of our grant programs.
---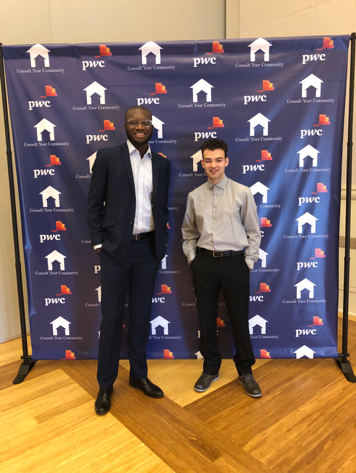 The generosity of the PCSE's conference fund allowed me to attend Consult Your Community's first annual National Conference this past November. This was a two-day event hosted at North Carolina State University, home to one of the largest Consult Your Community chapters in the nation. Wesleyan Consulting Group is one of 22 chapters around the country.
Due to Wesleyan's size and unique student body, I came to the conference with the intention of networking with the Consult Your Community executive board, along with other small chapter leaders to learn how we can best utilize our resources to effectively engage our members and our clients (small businesses and non-profits in the Middletown area). Having served with Wesleyan Consulting Group since fall of my first year, I have been extremely privileged in having the chance to work with people in our community who are looking to build, develop, and expand their organizations.
I will admit, I never truly understood the full scope of Consult Your Community until this year. I joined Wesleyan Consulting Group shortly after it transitioned into a Consult Your Community chapter and viewed them as an organization that provided us with a mentor, project tracking tools, and a few training resources. At the conference, I learned the history of Consult Your Community and the vision the organization is attempting to achieve.
The Consult Your Community National Conference offered the potential for collegiate students to band together and change the communities their colleges are located in. By targeting students to forge close relationships with small business and nonprofit owners, Consult Your Community student consultants are able to leverage one of the most established national platforms for learning consulting skills, while allowing the unique opportunity to learn about the local business landscape.
At the conference, I had the opportunity to meet consultants from Accenture, Deloitte, EY, and PwC. Many of the younger consultants were Consult Your Community alumni who were able to discuss how their experiences with Consult Your Community carried into their post-graduate careers. I also had the opportunity to hear from current and former Consult Your Community clients, where they shared the impact that our nationwide team of consultants provided their businesses. One business owner, Jon Seelbinder spoke to his experiences as both a business owner and a Consult Your Community client during a small business panel comprised of four NC State Consult Your Community clients. Seelbinder owns a local hospitality group in Raleigh that operates a number of bars and restaurants in the downtown area. Him and the other panelists spoke to how Consult Your Community has provided their businesses with the resources and strategies to recover from challenging times and to grow. These business owners rely on Consult Your Community to help set the foundation for them to realize their full potential. We also had the chance to eat dinner at one of Seelbinder's restaurants, Virgil's Original Taqueria.
I would definitely encourage more members of Wesleyan Consulting Group to attend the conference in the future. Meeting with Consult Your Community members from across the country and the Consult Your Community executive board really allowed me to see how Wesleyan has the potential to be part of the revolution of collegiate consulting groups. This experience would not have been possible without the support of the Patricelli Center for Social Entrepreneurship. Having the chance to work closely with Makaela Kingsley on Wesleyan Consulting Group through our student forums and engagements has been a truly transformative experience and we could not do it all without her. If you have not been involved with the Patricelli Center, I highly encourage you to take a step and experience one of the gems that Wesleyan has to offer. Wesleyan Consulting Group is currently seeking committed first years and sophomores to join as business analysts.