---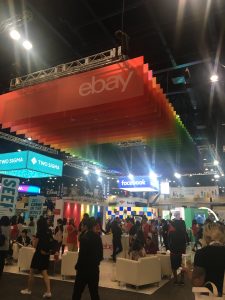 "And we are here to help one another find our voices, know our power, and have one another's back. We are here to rise up together. We are here to change to world." — Brenda Wilkerson, CEO of Anitab.org
I had the privilege to attend the Grace Hopper Celebration (GHC) in Houston, Texas from September 26 – 28. With over 20,000 people attending, it's the world's largest gathering of women technologists.
Since I started pursuing computer science, I have taken courses where men outnumber women 6:1 and sat in information sessions for tech jobs with only a handful of women in the crowd. Attending a conference aimed at women was a completely new and powerful experience. Walking into the keynote hall each day left me in awe at the number of women from all walks of life coming together.
Preparation for the conference started long before arriving in Houston. In August, I submitted my resume into a database in an attempt to get ahead on job hunting, and soon emails from companies started pouring in. I heard from companies wanting to set up interviews, or simply for me to swing by their booth during the conference. Before I left Wesleyan, I had eight interviews scheduled during the conference. I'd never had this kind of luck with applying for jobs, and I hoped that I would walk away from Houston with a job. This experience felt surreal and validating – the first time I felt like I was qualified and belonged in tech.
The first day started with a keynote from Padmasree Warrior about autonomous vehicles and leadership, followed by Jessica Matthews who jump roped (in heels!) on stage. After the keynote ended, I anxiously waited outside the interview hall waiting for a three hour interview. As I was telling my friend how nervous I was, the woman next to me joined in and started cracking jokes. It turned out that she was a recruiter for a company I was interested in, and she told me to swing by her booth later.
Just chatting with someone on a conference hall floor wasn't how I envisioned networking worked, but I came to realize that GHC creates these opportunities. You can learn so much by reaching out to those around you.
The second day went similarly. Interviews were scheduled throughout the day, and in my downtime I made a mad dash to a talk by Sofia Shepard about how it's okay to cry at work. I also took a trip to the famous career fair where hundreds of companies set up extravagant booths, handing out free pens, hats, notebooks, and even your face made out of candy. The enormous tote bag at my side was soon full of novel yet useless swag. As I made my way around the booths, I perfected my elevator pitch and handed out copies of my resume. My friend won a stuffed horse from spinning a wheel while I walked away with a keychain flashlight. Some swag was clearly better than others. At the end of day two, I headed to a networking event / silent disco put on by Cisco. My friends and I put on light-up cowboy hats and chatted about our experiences at the conference while enjoying a taco bar. It was the perfect way to unwind as the conference was coming to an end.
Waking up the final day and getting to my final interview was difficult. It was a relief to finish all of my interviews. I ran into some friends from abroad and we made our way to the closing ceremony together. We heard from many speakers, including the CEO of Anitab.org, and I left the final talk feeling incredibly empowered.
My time at Grace Hopper was an unforgettable experience. I gained a lot of confidence, spent time with friends (and made new ones), and even left the conference with a full-time position at Disney. Above all, being surrounded by thousands of other women who are walking the same paths as me was an incredible opportunity. Conferences and communities like GHC are amazing resources that more women need to know about and take advantage of. Moving into the future, I hope there are more opportunities for women and minorities to find and participate in these spaces.