Rachel Godfrey '19 was selected to receive a Conference Grant from the Patricelli Center for Social Entrepreneurship. With this grant, Rachel traveled to Miami Beach, Florida to attend Art Basel Miami Beach. You can read Rachel's reflection below, read past grantee reflections here, and visit the PCSE website to learn more about all of our grant programs.
---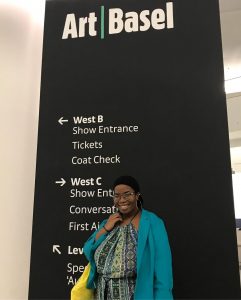 From December 6th – December 9th, I attended Art Basel Miami Beach in Miami Beach, Florida. Over the course of these few days, I learned more about the curatorial process, met artists I've admired for some time now, met up with an artist and friend who did work for the Zilkha Gallery, attended panels, and completely immersed myself into an amazing art experience. Thanks to the Patricelli Center and the African American Studies Department, I was able to learn more about the work that I want to do during my last few months at Wesleyan, as well as after graduation.
Art Basel showcases "significant work from the masters of Modern and contemporary art, as well as the new generation of emerging stars. Paintings, sculptures, installations, photographs, films, and editioned works of the highest quality are on display in the main exhibition hall." The Miami Beach show consisted of work from over 200 galleries; I'm still in awe of the fact that 2 days in the Convention Center still didn't give me enough time to see every single gallery. It was HUGE. The art world, especially the curatorial world, can be daunting in how big it is, but also in the lack of representation in this vast world. Seeing the amazing work of the different fairs and the work of amazing artists of color, queer artists, and every intersection, did a lot for my soul, my imagination, and how I think of my own identity.

Most of my time in Miami/at Art Basel was spent at the PRIZM Art Fair. PRIZM's mission is "to promote the work of artists from Africa and global African Diaspora, who reflect global trends in contemporary art." I attended panels with artists, curators, collectors and more speaking about the importance of real representation – not just cosmetic diversity – in the art world. While the first few panels I attended were okay, there were some sentiments that nagged at me after the talks. One artist was speaking about promotion and validation of one's art and spoke to how it's necessary to get people in higher learning institutions to "preach your gospel" in order to validate one's work. Something about this didn't sit right with me; it seemed slightly dismissive of the voices immediately around us. It also felt like it didn't push further and critically question the hierarchies already present in curatorial work, and how consumers of art value the "who's who" of art; questioning these hierarchies felt like it was the reason why PRIZM began in the first place.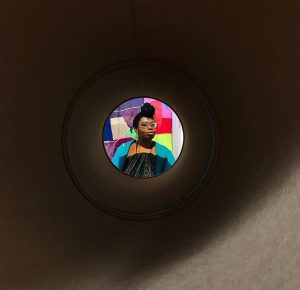 However, the final panel definitely did the kind of critical questioning that left me speechless. On the panel were two curators, Naima J. Keith and Diana Nawi, recently announced as the new curators for the Prospect. triennial in New Orleans. During this panel, they talked about the power of curatorial work, how to create sustainable creative spaces, and about breaking out of traditions. These two women would be the first people to work in a pair to curate this show. It isn't often that there is more than one curator for a show; it's assumed that there will be too many disagreements. But they spoke to the importance of respect, trust, and imagination in the kind of work they do. Watching their admiration for each other was empowering. Hearing them speak about not taking the convenient route in doing the work they do was inspiring.
In addition, the curated exhibitions featured at PRIZM were mind-blowing. Artists featured came from galleries all over the world, from Miami to London. It was an immersive experience; it was also comforting that my friend and I were not the only two people who were on the verge of tears and/or screaming as we walked through the work. We spoke with so many artists, collectors, and photographers who were as deeply invested in the space before them as we were. Meeting creatives in this way was such a beautiful experience.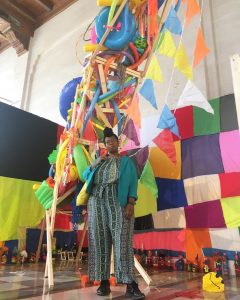 One of the greatest experiences during my time at ABMB was coming to face-to-face with one of my favorite artworks of all-time. The Rhona Hoffman Gallery presented works by photographer Deana Lawson – one of my biggest inspirations – including her photograph, "Binky & Tony Forever" (2009). Aside from being an amazing piece on its own, it is also the cover of an album that sits in a very special emotional place for me, Blood Orange's "Freetown Sound". I was brought to tears right in front of the piece; it was in this moment that I realized just how special this opportunity was for me. ABMB/PRIZM created space for my imagination to blossom, but also helped me formulate thoughts about art, artistry, and curation that I didn't have the language for prior to this experience. I learned more about the parts of working with art that I hate, and parts of the curatorial process that excite me with how many possibilities exist. I hope that more students are able to attend in the future to learn about just how powerful art is and can be.