Akua Naru will share her music and speak on "Women in Hip-Hop, Contemporary Black Culture, and the Role of College Radio."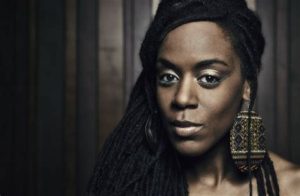 Independent artist and founder of The Keeper Project – a multi-media archive which chronicles the role of women in the creation and evolution of hip-hop music and culture – Akua Naru was awarded the prestigious Nasir Jones Fellowship at Harvard University and is currently an artist-in-residence at Brown University.
Since her 2011 debut, The Journey Aflame, she has released 2 studio albums; The Miner's Canary (2015), and the Blackest Joy (2017), and a live Recording: Live and Aflame Sessions (2012). She has performed in more than fifty countries and has become a highly sought lecturer.
Please join us in learning more about Akua Naru's music and artistic inspirations.
Monday, October 14, 4:30-6:00 pm, Allbritton 311
Free and Open to the Public
Established in 1939, WESU 88.1 FM is one of the oldest non-commercial radio stations in the United States. 2019 marks the 80th year anniversary for the station and a unique opportunity for the campus and broader community to revisit its history, impact, potential, and import to the socio-political landscape of the 21st century. Throughout WESU's history, there have been two constants: first, without interruption, Wesleyan students have continuously operated the station; and second, broadcasts have been focused on new, under-represented, or non-commercial programming aimed at students and the larger community. This event is part of the WESU 80th Anniversary Events Series.