Alphina Kamara '22 is this year's Intern for the Patricelli Center for Social Entrepreneurship. Alphina will support PCSE classes, grants, and other programs, and will also provide peer mentorship to fellow student entrepreneurs and changemakers. Learn more about Alphina below.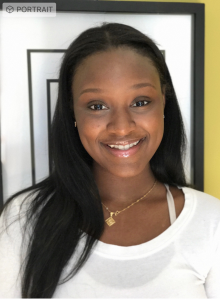 Q: Can you introduce yourself?
A: My name is Alphina Kamara, and I am a sophomore at Wesleyan University who is happy to share that I will be taking up the role as the Patricelli Center for Social Entrepreneurship Intern. I am originally from Delaware but both of my parents are immigrants from West Africa Sierra Leone. This played an instrumental part in my upbringing because Sierra Leonean culture is all about collectivism. So I was taught to keep others in mind, and with the concept that it takes a village to raise a child. So my cousins, aunts and uncles were more like siblings and second parents to me. Overall, due to having to navigate between cultures and different stratospheres it has caused me to be open-minded and understanding so I hope when I get to meet all of you that comes across.
Q: What does the PCSE Internship entail?
My role is to promote social entrepreneurship on campus and to be a peer supporter to you. I know that there are so many students on campus who have amazing ideas that have the potential to make social change but let those ideas sit on the back burner. I know it's hard to take action without a support network or an accountability partner! My goal as an intern is to encourage students to explore these ideas and help them find the resources to turn ideas into reality.
Q: What made you apply for this role?
Since I was in high school I have been advocating for social change, particularly around issues plaguing the school system. I have given testimony in school board meetings and legislative hall about the lack of diversity in upper-level classes and accountability in public schooling. As a person who cares about social justice issues and has an interest in entrepreneurship, I believe that people can merge the two. Whatever product or corporation one creates you can always incorporate the social in some capacity. This can take the form of creating a space that promotes diversity and environmentalism. This can also look like activism that is done strategically in order to maximize impact that addresses systems that can be tweaked to prevent additional harm to people and planet. Overall, I believe It is never too early for students to begin honing their social impact skills, and I want to help you do that in my role as PCSE Intern.
Q: What are you interest asides from your role as the Patricelli Center for Social Entrepreneurship Intern?
A lot of the work I've done in college so far has pertained to volunteerism and prison incarceration reform. This year I am co-coordinating Wes-NEAT along with Emily Mcevoy which is a student group that helps bridge the gap between Wesleyan and the North EndCommunity here in Middletown. We also have a center that helps those who have been recently incarcerated re-enter the workforce by providing them with resume help, clothing attire, and more. Asides from extracurriculars and academia, I like to spend my free time listening to old soul music and hanging out with my friends. Every Friday my friends and I have a tradition of having Boba on Mainstreet to escape the Wesleyan bubble for a bit as well.
Q: What are you most excited about with your new position?
I am most excited to promote the power of social entrepreneurship on campus. I am looking forward to meeting passionate students and helping them make their ideas a reality. I am also eager to be apart of the process of seeing the growth of students and their projects. These endeavors will not only address social issues and demonstrate the power of entrepreneurship, but they also allow students to grow exponentially and learn life skills that will follow them in other ventures and jobs. Overall, I am excited to advance the social entrepreneurship ecosystem on campus and be along for the ride as students and their projects evolve.