Human Rights in the US: A perspective from a non-American, with Maina Kiai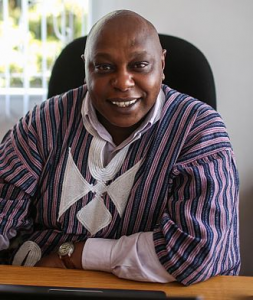 Maina Kiai was the United Nations Special Rapporteur on the rights to freedom of peaceful assembly and of association from 2011 until 2017. In 2016 he completed official mission to the US pursuant to his mandate to assess the situation of freedoms of peaceful assembly and association in the country. At a press conference at the end of his visit on July 27, 2016, he called the United States "a nation of struggle and resilience," but noted that the country was currently "struggling to live up to its ideals on a number of important issues." He said that "Racism and the exclusion, persecution and marginalization that come with it, affect the enabling environment for the exercise of association and assembly rights,"
A lawyer trained at Nairobi and Harvard Universities, Mr. Kiai has spent the last 20 years campaigning for human rights and constitutional reform in Kenya – notably as founder and Executive Director of the unofficial Kenya Human Rights Commission, and then as Chairman of Kenya's National Human Rights Commission (2003-2008). Mr. Kiai was the Director of Amnesty International's Africa Program (1999-2001), and the Africa Director of the International Human Rights Law Group (now Global Rights, 2001-2003). In 2010-11 he was the Executive Director of the International Council on Human Rights Policy, a Geneva-based think-tank. He has held research fellowships at the Danish Institute for Human Rights (Copenhagen), the Woodrow Wilson International Center for Scholars (Washington), and the TransAfrica Forum (Washington). In September 2018, he joined Human Rights Watch to launch its Alliances and Partnerships program.
Thursday, October 17th, 12:00-1:00 pm, PAC 002
Free and Open to the Public
Lunch will be served

Sponsored by the Allbritton Center for the Study of Public Life and the University Network for Human Rights.