Wesleyan Engage 2020
A comprehensive University effort to support student learning via civic engagement and liberal arts education. E2020 is open to and encourages participation regardless of political affiliations, regardless of stances on specific issues.
Wesleyan University has a long history of supporting student engagement in the public sphere. Wesleyan's Civic Action Plan sets goals for building civic preparedness among students, faculty, and staff and for enhancing the University's role in public life.
2020 represents a unique opportunity for civic participation and liberal learning through engagement with the public sphere. With the launch of the Wesleyan Engage 2020 Initiative (E2020) we will provide pathways for student skill and leadership development via direct participation in civic life. In the coming weeks, we will announce a menu of programs aligned with E2020.
The Wesleyan E2020 Initiative Fund will award Wesleyan students grants to engage in voter registration efforts, issues advocacy, political campaigns at the local, state or national level – across the political spectrum.
Though the Wesleyan E2020 Initiative Fund welcomes all ideas, we will prioritize applications that seek support for:
work that will take place during winter, spring, summer, or fall break.
organizing groups of students for impact in areas in which local or national elections and issues are more contested.
If you are a student interested in seeking support for such work, please:
Complete the E2020 Initiative Fund Application – let us know where and how you plan on politically engaging.
Provide an estimated budget for your project, including travel, supplies, and/or lost wages for students on financial aid who will miss paid work for this opportunity.
Once you're approved, go do the thing! ENGAGE!
Upon completion of your project, submit a report accounting for expenses, along with a work verification sheet signed by a campaign manager or supervisor.
All grantees will be expected to submit a public report for the ENGAGE blog, which should include photos or other media and a reflection on the experience.
Please note, there will be opportunities to share your stories with University Communications and participate in on-campus sharing sessions. You may also be invited to speak on panels regarding civic engagement, and/or to participate in relevant Allbritton Center events.
If you are interested in connecting with campaigns/local advocacy groups and/or have questions about the application process, please email engage@wesleyan.edu.
Applications for Winter Break support are due Friday December 13, 2019.

Students can expect to hear back from the team by Tuesday December 17, 2019.

Applications for Spring Break support are due Friday February 7, 2020.
Application deadlines for the Summer and Fall Breaks TBA.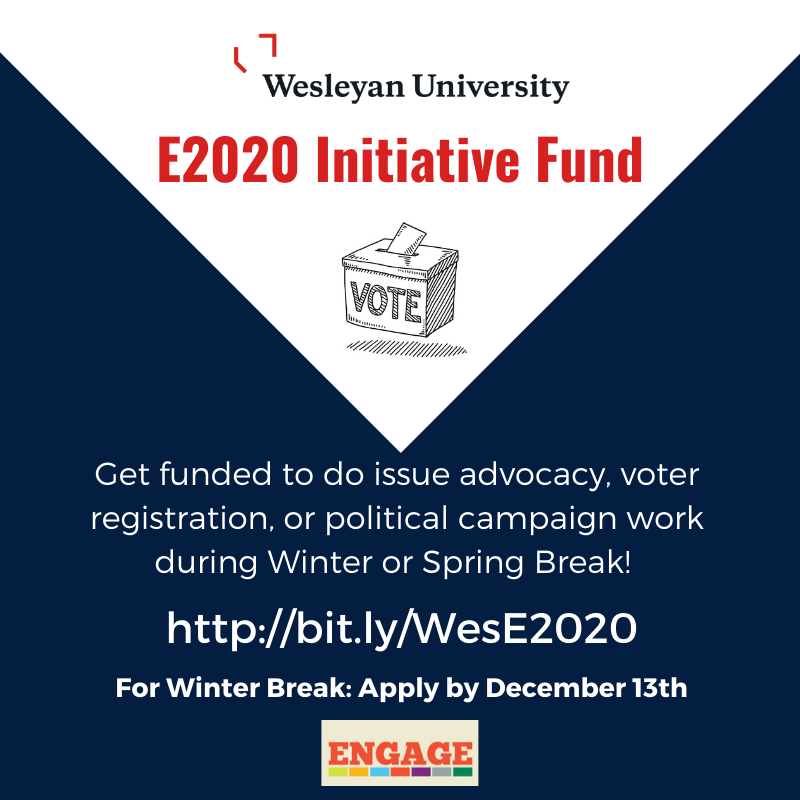 *Please note: U.S. Election laws prohibit Wesleyan from supporting the work of foreign nationals on political activity connected with any election to political office at the federal, state or local level. Foreign nationals are encouraged to apply, instead, for either a) efforts related to important or contested issues not connected with an election, if permitted by your current non-immigrant status or b) issue or election work, where permitted, in another, non-US jurisdiction.