We are amazed to see the Wesleyan community stepping up to support each other and their home communities during this turbulent and uncertain time. Whether you support a mutual aid network, phonebank for a presidential campaign, or tutor students remotely, the Cardinal Community Commitment continues to reflect the University's collective approach to civic engagement, as well as our commitment to working in partnership and learning from our experiences.
Before getting involved in any remote community service or civic engagement, we ask that all students review the updated Cardinal Community Commitment. Once you have read the Commitment, please fill out the form below to show us that you understand the Commitment, to share any feedback you may have, or to let us know what types of engagement you're involved in.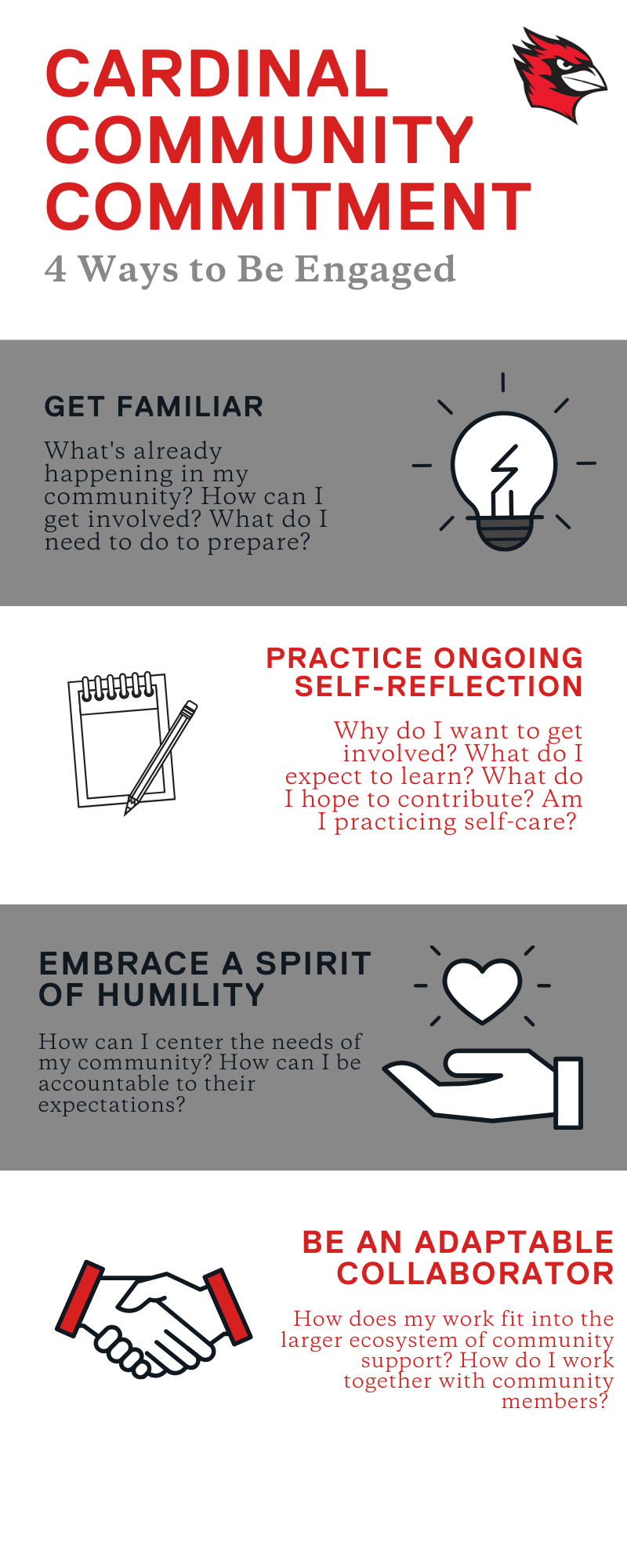 Get Familiar…



Take some time to get to know your community. Find out what's already happening before creating something new. For example, is there a nonprofit organizing wellness phone check-ins for the elderly, a food pantry collecting supplies, or a mutual aid spreadsheet that you can share with others? Different communities have different needs and different ways of problem-solving. Get familiar with your community's needs and strategies and support on-going efforts.
Practice ongoing self-reflection…



Before starting your engagement, ask yourself, "Why do I want to get involved?", "What do I expect to learn?", and "What do I hope to contribute?" Expect to confront some practical challenges during your engagement and embrace those as learning opportunities. Taking care of your community is important during these times and requires being cognizant of our physical and emotional needs. Practice self-care, while encouraging and supporting others in their practice. If you have questions, reach out to your peers, members of your community, and/or Wesleyan faculty and staff.
Embrace a spirit of humility…



Respect the expertise and experience of your community members, and be accountable to their expectations. Recognize that you might not have all of the answers. Be committed to learning through your experience and to continually center the needs of your community during your engagement. Be patient – some partners might need time to identify needs and determine their capacity to supervise volunteers.

Be an adaptable and willing collaborator

…





Your community partners may have worked for many years to address complicated issues that require flexibility and creativity. Accept that their needs might be fluid – particularly during these unprecedented times. Certain engagement ideas may have been a good fit before, but may not make sense for your community now. Remember to work first on behalf of the interests and needs of your partner.