This summer, 16 students will promote democracy and broaden their engagement with the public sphere through Wesleyan's Engage 2020 Initiative (E2020) Fund.
The initiative is a comprehensive university effort to support student learning via civic engagement and liberal arts education. Wesleyan's Civic Action Plan sets goals for building civic preparedness among students, faculty, and staff, and for enhancing the University's role in public life.
Summer E2020 Fund recipients receive grants to support costs associated with lodging, meals, computer software, project supplies, and phone and internet services. In addition, participants enroll in the quarter-credit course CSPL 494, Internship: Elections, which requires students to participate with an electoral process for at least 40 hours, offer structured reflection, and complete a final paper.
To date, 33 students have received one of Wesleyan's 40 E2020 grants during the fall, spring, and summer. The summer grantees will begin their work in July.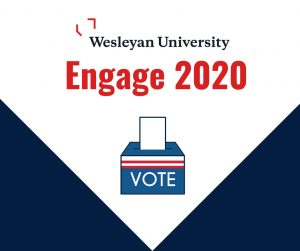 As students around the country find meaningful ways to participate in American civic life, we will share inspiring stories of engagement and ideas for best practices from across the institutions that have committed to the principles of Engage 2020.