Saakshi Kakar '20 was selected to receive a Conference Grant from the Patricelli Center for Social Entrepreneurship. With this grant, Saakshi traveled to Philadelphia to attend the Urban Health Symposium. You can read Saakshi's reflection below, read past grantee reflections here, and visit the PCSE website to learn more about all of our grant programs.
---
This September, supported by the Patricelli Center's Conference Grant, I was fortunate enough to attend the biennial Urban Health Symposium, hosted by Drexel University in Philadelphia. I, along with Mubarak Sanni ('20) and Isabella Greco ('21), were going to present the findings of research that we have conducted with the Dr. Shellae Versey's Critical Health and Social Ecology Lab. This conference takes an interdisciplinary approach to the field of Urban Health, with researchers, practitioners, and policy makers in attendance. Over two days, there are talks, panel discussions, and poster presentations by national and global leaders in the field, along with graduate and undergraduate students.
Since Urban Health is a special interest of our lab, this Symposium was a hub of innovation for us. The talks were enlightening. Listening to talks on the novel work that is happening in the field of Urban Health, the new technologies being used, and the problems that still need to be solved reminded me why I am so passionate about research. The wide range of topics of the talks, including urban design and migration, and the interactive panel discussions after them, sparked several potential research projects in my mind. It was also a lovely experience seeing research similar to ours actually be applied in the real world. Even the breaks were inspiring. There was a sense of curiosity and a spirit of collaboration in the air, as attendees animatedly discussed each other's' work.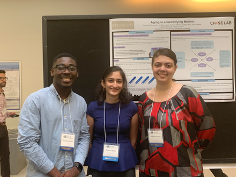 After listening about the fantastic work that is being done in the field, we got an opportunity to present our own. Ours was one of nearly 50 posters that was chosen to be presented at the symposium's poster session. Our research explored the topic of aging in gentrified Harlem, specifically examining the physical, social, political, and economic effects of gentrification on senior citizens ageing in place. It was a fantastic experience presenting in front of people who are conducting similar research. We received some feedback, were posed thought-provoking questions, and were offered valuable suggestions on how to take our research further. It was a bit intimidating being one of the few undergraduates who were presenting, among institutional researchers, professors, PhD candidates, policymakers and even a Councilmember from Philadelphia! However, I was extremely proud of our ability to go toe to toe with our receptive audience as we spoke about our research.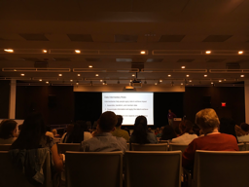 I would highly recommend this conference to anyone interested in the field of Urban Health. It was a tough decision to leave campus during the first week of classes, a time I would have otherwise spent settling in and scurrying about during drop/add. Thankfully, this experience was more than worth it. This experience was fulfilling and eye opening. I will always cherish this opportunity to forge connections with established members of the field of Urban Health and to present my work at a public professional platform such as this. I returned to Wesleyan with a greater, more nuanced understanding of my own research and the larger field of Urban Health, replete with a variety of new perspectives. For this, I would like to again share my appreciation for the Patricelli Center for Social Entrepreneurship. Their financial support was instrumental in enabling me to have this illuminating experience.