In this E2020 Speaker Series Event, Interfaith Youth Core (IFYC) Founder and President Eboo Patel, will highlight the findings of IFYC's recently released IDEALS research on religious and political diversity issues in Higher Education. Wesleyan President Michael Roth will then offer a response.
The United States is the most religiously diverse nation in human history and the most religiously devout nation in the West. Religion has powered our progressive social movements, undergirds a huge part of our civil society and plays a massive role in our politics. So why do colleges pay such little attention to this dimension of identity, and what are the costs of this sin of omission?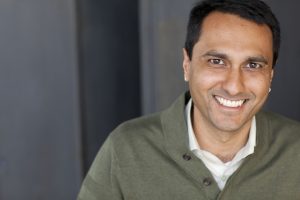 Dr. Eboo Patel is the Founder and President of Interfaith Youth Core (IFYC), a non-profit organization working to make interfaith cooperation a social norm in America. He is a respected leader on national issues of religious diversity, civic engagement, and the intersection of racial equity and interfaith cooperation. He is the author of four books and dozens of articles, and is a frequent keynote speaker at colleges and universities, philanthropic convenings, and civic gatherings, both in person and virtually. He served on President Obama's Inaugural Faith Council.
Eboo's contributions include the books Acts of Faith: The Story of an American Muslim, the Struggle for the Soul of a Generation; Sacred Ground: Pluralism, Prejudice, and the Promise of America; Interfaith Leadership: A Primer; and Out of Many Faiths: Religious Diversity and the American Promise. His op-eds and interviews have appeared in The New York Times, Washington Post, The Chronicle of Higher Education, on National Public Radio, and The PBS NewsHour. He also publishes a regular blog for Inside Higher Ed, called 'Conversations on Diversity'.
Eboo holds a doctorate in the sociology of religion from Oxford University, where he studied on a Rhodes scholarship. He has been awarded the Louisville Grawemeyer Prize in Religion, the Guru Nanak Interfaith Prize, the El Hibri Peace Education Prize, the Council of Independent Colleges Academic Leadership Award, along with honorary degrees from 15 colleges.
Eboo lives in Chicago with his wife, Shehnaz, and two young sons. He is a die-hard fan of Notre Dame Football, Wilco, and really good coffee.
Thursday, October 22, 6:30-8:00 pm, EDT
Free and open to the public
Zoom Link here: https://wesleyan.zoom.us/j/95970675377
The E2020 Speaker Series brings together community organizers, activists, and changemakers to talk about the 2020 election and movement-building. See the whole lineup here: http://engageduniversity.blogs.wesleyan.edu/2020/08/31/engage-2020-speaker-series/
The E2020 Speaker Series is supported by generous contributions from the Wintman Family Lecture Series Fund.