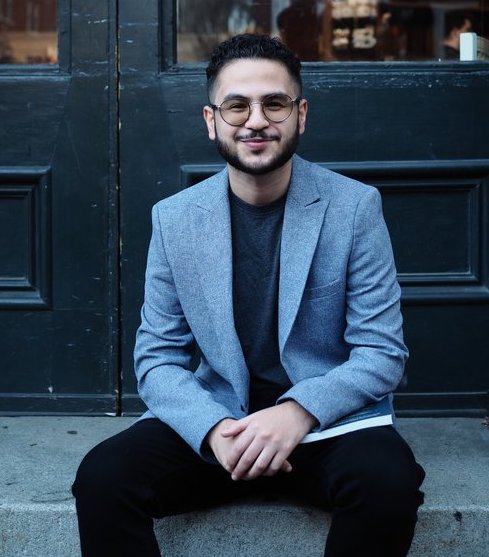 The Allbritton Center for the Study of Public Life is excited to welcome Ahmed M. Badr '20 as the Interim Director for the Patricelli Center for Social Entrepreneurship and as an Adjunct Assistant Professor of Public Policy!
Ahmed is an Iraqi-American author, poet, and social entrepreneur working at the intersection of creativity, climate action, displacement, and youth engagement. He holds a BA in Anthropology from Wesleyan University and an Ed. M. from the Harvard Graduate School of Education. He is the author of While the Earth Sleeps We Travel: Stories, Poetry, and Art from Young Refugees Around the World (Andrews McMeel). He is a winner of the 2022 Echoing Green Social Innovation Showcase, and the recipient of a Regional Murrow Award, the Adrian Cheng Fellowship from Harvard Kennedy School, and the Social Innovation Fellowship Fund award from Harvard Business School. He is a National Geographic Young Explorer and serves as one of 17 UN Young Leaders for the Sustainable Development Goals in the Office of the UN Secretary General's Envoy on Youth.
Ahmed's work has been exhibited at Juilliard, Harvard Divinity School, Yale Law School, UNICEF House, Christie's, World Bank Headquarters, and the Metropolitan Museum of Art, among others.
---
I sat down with Ahmed to learn more about his experience with the Patricelli Center as an undergraduate student, as well as his hopes and vision for the Center.
While you were at Wes, what experiences did you have with the Patricelli Center?
The majority of my time at Wes was linked to Patricelli and Allbritton. I was an Allbritton Fellow, Patricelli Fellow, and recipient of the Patricelli Seed Grant and Patricelli Summer Experience Grant. Throughout my four years, the Center was fundamental to my growth as a student, entrepreneur, artist, and more broadly as someone deeply interested in creating social impact. Thanks to Makaela Kingsley and the extraordinary people I connected with through Patricelli funding and programs, I was able to continue building Narratio, an organization I created as a teen that now runs the only U.S.-based initiative building cohorts of resettled refugee youth Fellows to shape and influence the global conversation around displacement and cultural production. The Patricelli Center showed me that the pursuit of social impact can be a powerful complement to the Wesleyan experience.
[You can learn more about Narratio
here
.]
How did your time at Wes prepare you for post-grad?
Wes taught me the importance of systems-level thinking, realizing every action we take and every community we engage and belong to, are part of larger systems. In many cases, these systems weren't created by people who look like me and you. I learned about power, access, and prestige, and how to productively reflect on my relationship to each. I was taught how systems were created and how they continue to be maintained, and learned the importance of leading with intersectionality from the onset of any social impact project. I gained perspective on the nuances within existing systems of impact, and how we can create new models of entrepreneurship that are intentional, creative, iterative, and equitable.
What hopes do you have for the PCSE? What goals or ideas do you hope to bring to life?
I envision the Patricelli Center to be a gathering place for students interested in turning their passions and lived experiences into projects that can make the world a better place. I want students to connect and brainstorm solutions that are community-centered and community-informed.
I see the Center as a place for students to not only connect with each other, but to network with alumni and local, national and international organizations who share common interests and goals. Ideally, the Center must be a generative space for students to learn, support, and mentor each other, a space to feel welcomed and inspired.
I hope to create long-term infrastructure for programming that emphasizes and prioritizes cross-campus student engagement, and work to connect students with outside opportunities across industries. I want the folks who go through the Patricelli ecosystem to have the opportunity to join major national and global gatherings that involve entrepreneurship, advocacy, and community engagement. Ultimately, I hope to create opportunities for the remarkable Patricelli Center community to expand, collaborate, and thrive.
Please visit Ahmed's website to learn more about his projects and accomplishments, including his recently published book While the Earth Sleeps We Travel. Ahmed can be reached at abadr@wesleyan.edu