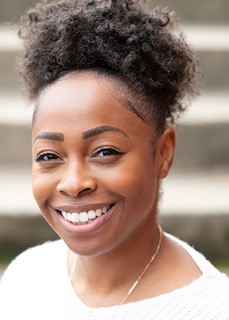 The Jewett Center for Community Partnerships (JCCP) is excited to welcome Briana Bellinger-Dawson as the Coordinator of Community Participation! She has been an educator for New Haven Public Schools for the past eight years at Nathan Hale School and Cooperative Arts & Humanities Magnet High School. She is also an alum of the Center for Creative Youth program held annually at Wesleyan University. Briana has been a teacher for local regional and community theater companies such as Elm Shakespeare Company of New Haven, CT, Playhouse on Park Theatre of West Hartford, CT, and Center Stage Theatre of Shelton, CT. She has developed many community performing arts programs in New Haven During the Covid lockdown, Briana developed 'Black History Month Stories', an online platform where teachers could upload videos of themselves reading a book and families could watch a new video nightly during remote learning in celebration of Black History Month. She also created a performing arts camp for the New Haven community during the pandemic to allow students the opportunity to create safely outside and build on their SEL skills. She has attended AMDA and Albertus Magnus. Briana lives in New Haven with her partner and son.
Continue reading to learn more about Briana's vision for the JCCP.
What do you hope to bring to the JCCP? 
I hope to bring insight and community-building opportunities to the JCCP. With the three focus areas in place and the amazing programming the JCCP has with Middletown so far, I believe that I can help bridge Wesleyan to other towns/cities throughout Connecticut. Every day the communities around us grow and we as members of the community; as well as the community programming itself, should grow with it. I hope to expand our engagement opportunities to more of the Middlesex County, as well as other surrounding areas, and partner with organizations to better serve Connecticut.
What ideas do you have for the JCCP's student programs and community partnerships?
I hope to expand more with our educational and youth development programs. As a former teacher, I know first-hand that out-of-classroom programming impacts a child in many ways and has lasting effects. I hope to create programming that follows the Comer Model and keeps the whole child in mind. It would be great to get more students on campus to experience the atmosphere and get the wheels turning about higher education. Rather than being observers, it would be great to create more hands-on opportunities in multiple subject areas for students to engage in on-campus learning as well as with Wesleyan students.