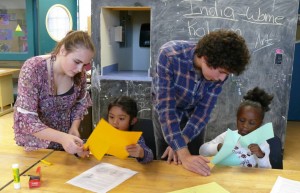 What do you like to do?
Students bring many, many hobbies and passions with them to Wesleyan. Some of these interests find an outlet in classes or student groups, while others may still be waiting to be shared. Leading an AfterSchool class at the Green Street Teaching and Learning Center is a great way to extend the activities you already do on campus — a cappella, dance, poetry, for instance — or to finally put untapped talents — origami, circus, robotics, and what have you — to good use in the greater community.
Apply by Sunday, March 15 to teach a weekly class for elementary school students during the fall semester. Courses can cover a wide range of topics in the arts and interdisciplinary fields (especially involving math or science), and team teaching may be an option. This is a paid opportunity, regardless of work-study status.