Join the 2015-2016 Allbritton Center Collaborative Cluster Initiative, a unique offering of Wesleyan's Allbritton Center for the Study of Public Life: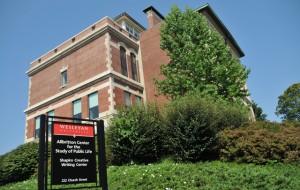 The Allbritton Collaborative Cluster Initiative ties together several courses through a common research theme and a culminating project. Courses and the seminar are supplemented by special events, meals together, outside speakers, and team-building exercises.
This Collaborative Cluster of courses and performative research will include course work in music, dance and African American Studies centered on the notion of renaissance in African American culture. Acts of "renaissance" are efforts of revival and of renewal that often suggest hopeful restorations and vibrant re-creations. Yet, even as these processes of revival and renewal suggest a visible flowering, they simultaneously call attention to matters of decline and undoing. Our collaborative project is rooted in a multi-faceted conception of renaissance, and explores states of past and present, of vitality and decay, and of presence and absence.
This project takes on those questions of the multiplicity of African American performance practices, the vital weaving of tradition and experimentation, and the ways in which dancing bodies serve as moving histories by engaging with the traditions of black musical theater. However, rather than seeking to recreate the traditional tripartite relationship between text, music, and dance this projects aims to create new forms of expression developed collaboratively with writers, musicians and dancers.
This work will draw inspiration from the musically significant African American communities of Pittsburgh, Pennsylvania, notably Homewood, The Hill District, and Garfield; as well as the better-known New York neighborhood of Harlem.
The culmination of this year-long exploration will be an evening-length performance at Wesleyan University's Center for the Arts in the Spring of 2016.  In addition, students engaged in the project will develop independent written and performative research around the work done in the courses and the performance.
To join the Cluster Initiative:
1. Sign up for the year-long Collaborative Cluster Initiative Research Seminar (CSPL 320). This requires Permission of Instructor from Professor Lois Brown or Professor Nicole Stanton.  Each semester earns a .5 credit.
2. Sign up for section 02 (also POI) of one or more of the following classes:
Fall 2015
AFAM 249-02/MUS 249-02: Sacred and Secular African American Musics (Jay Hoggard)
DAN 377-02: Perspective on Dance as Culture: Dancing the African Diaspora (Nicole Stanton)
Spring 216
Storied Places: Revival, Renewal, and African American Landscapes (Lois Brown);
An interdisciplinary visual and performance art course taught by Visiting Artist and Scholar, L'Merchie Frazier
For further information, contact Rob Rosenthal (rrosenthal@wesleyan.edu), director of the Allbritton Center for the Study of Public Life.