Vanessa Chen '16 was selected to receive an Enrichment Grant from the Patricelli Center for Social Entrepreneurship for her trip to CGI U, an annual conference at which students, university representatives, topic experts, and celebrities come together to discuss and develop innovative solutions to pressing global challenges.
You can read Vanessa's story below, and visit the PCSE website to learn more about our grant programs.
*********************************
The weekend of March 6, I flew to Miami, Florida to attend the Clinton Global Initiative University conference, where I had the opportunity to meet with other student entrepreneurs and business leaders.
The conference offered students opportunities to learn from leaders through skills sessions on how to best sell products and panels about entrepreneurship. I attended a skills panel on the importance of measuring impact; this session was led by an entrepreneur, Karim Abouelnaga, who recently graduated from college. A key point raised in this talk was about the ability to generate funding. He said that for social enterprises to remain relevant in today's society, every dollar spent by investors and donors is measured by the amount of impact produced per dollar. His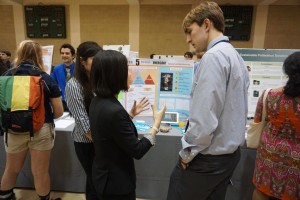 social enterprise provides summer programs to students that predominately come from economically disadvantaged households. Abouelnaga was able to gauge impact by measuring test scores from students who went through his program.
The conference also had workshops and a speaker series that included high profile individuals who gave advice to student leaders attending the conference. For example, I had the opportunity to see the whole Clinton family: Bill, Hilary, and Chelsea Clinton. Chelsea Clinton spoke about the ideas of success and progress. She said that some people tend to mistake progress for success, but in reality progress is only the first step toward realizing a larger vision. As a result, people need to continue to focus on their end goals.
Another informative portion of the conference was the panel series. One of the speakers spoke about the issues of indoor air pollution and the positive effects of cook stoves, which are more efficient than cooking on an open flame. Her topic directly related to my startup, which sells cook stoves at a low cost to areas that typically cannot afford them. As I listened to her pitch and heard her explain the idea to other students, I realized that I wanted to emulate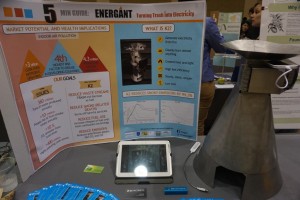 her style of selling an idea. For example, during the introduction to my pitch of the product, I used a story and facts right from the very start to convince my audience of the importance of cook stoves.
Lastly, my favorite part about this event was pitching the startup that I work for and learning about startups that other brilliant college students were creating. Through this experience, I gained a better understanding of how to best position my product and create networks with individuals from around the world. Having the opportunity to be in an environment where I get to make conversations and be inspired by my peers was extremely motivating and rewarding.
I believe that the Clinton Global Initiative conference is a great opportunity for any university student. It is easy to recognize that every student attending the conference has the drive and motivation to improve the world. This conference added onto my college experience and opened my eyes to the fact that it does not always take age and experience to succeed: drive and passion are just as important. Thank you Patricelli Center for funding such a wonderful experience.