The Work That Reconnects is known worldwide for empowering activists in social and ecological justice. Developed by Joanna Macy and her colleagues, this dynamic, interactive body of work has inspired many thousands of people to engage wholeheartedly in the Great Turning to a life-sustaining society. Described in the book, Coming Back to Life, it brings a new way of seeing the world, as our larger living body, freeing us from the assumptions and attitudes that now threaten all life on Earth.
The Earth Leadership Cohort program (ELC) is designed to introduce young adults to the theory and practice of the Work That Reconnects (WTR) through an experiential immersion and then to offer opportunities to practice facilitating the work in the context of a supportive learning community. A first Earth Leadership Cohort of young adults convened in the fall of 2014 and a second Earth Leadership Cohort convened in the spring of 2015. We are delighted to now be gathering a third Earth Leadership Cohort for the spring of 2016.
The first meeting of the cohort will include a five-day workshop April 22 – 27 at Friendly Crossways in Harvard, MA with a larger group of activists, educators, and artists. This intergenerational community of participants will be guided through the four phases of the Work That Reconnects, opening to the planetary realities of great suffering and rapid destruction as well as to the magnificence of the web of life.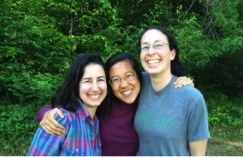 The second meeting is a retreat June 2 – 5 just for the Cohort at Starseed Healing Sanctuary in Savoy, MA. There, the group has the opportunity to reflect on the rich experiences of the previous workshop, to facilitate the WTR group practices, and to begin to integrate new perspectives into their personal and professional dreams. Alumni from the first two cohorts organized several reunions and co-facilitated a number of Work That Reconnects workshops for the public. They have also formed an "Earth Leadership Community" and welcome future ELC alumni to join.
Becoming a Member of the Earth Leadership Cohort
Young adults, ages 18 to 30, who are interested in participating in this two-part training are encouraged to send in a completed application. The application will be open until spots fill. 
A central goal of the program is to provide sufficient scholarships to make the opportunity accessible to anyone whose application is accepted. Applicants who would like to apply for a scholarship may complete the Scholarship Application found at the end of the program application. The total cost for tuition, room, and board for both gatherings is $1200.
April 22st – 27th – Friendly Crossways, Harvard, MA
June 2nd – 5th – Starseed Sanctuary, Savoy, MA
Accommodations are shared dorm rooms. Vegetarian meals are provided and an effort is made to accommodate special dietary needs.
For more information about the Earth Leadership Cohort, contact Aravinda Ananda at: aravinda.ananda@gmail.com