Hey, Wesleyan. It's your Civic Engagement Fellow, Jennifer Roach, here. I started this position in July of 2015, which doesn't seem like so long ago, but we are already accepting applications for my replacement! This is a 1-year position, so we are looking for a fellow to come on board in July 2016. The exact date is flexible. 
Being this year's fellow lead me to lots of interesting experiences, including: 
Attending the reSET Impact Awards Night, where the PCSE Director, Makaela Kingsley, was a featured panelist.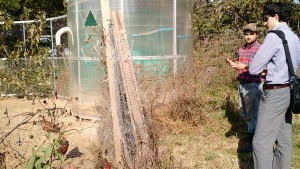 Learning about chicken coops with a guest speaker tour of Long Lane Farm.
Interviewing recent graduates for the #1YearOut blog post series.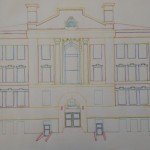 Hand-drawing a new logo for the Allbritton Center.
Planning student celebrations and "study breaks" that usually feature ice cream cake. 
Meeting incredible speakers such as Dr. Dorceta E. Taylor, Jelani Cobb, Kennedy Odede, and Bree Newsome at Allbritton events.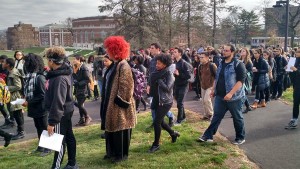 Participating in the #IsThisWhy march with wonderful student organizers, and facilitating a follow-up Allbritton Talks.
Researching the history of Sesame Street and public educational TV for the Allbritton Talks series.
Seeing the other side of a grant-making process by working with Makaela on the Patricelli Center Seed Grants and the Davis Prize for Peace application and interviewing processes.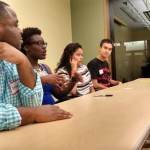 Facilitating a student entrepreneurship panel for visitors from Waterbury High School and Taft.
Editing grant applications for student groups pursuing summer funding.  
Discovering the Doula Project (and training with them next weekend!)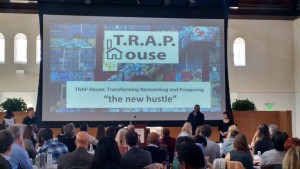 Coordinating large events for the first time, such as the PCSE Seed Grant Pitches
Interviewing students in Allbritton Service-Learning courses.
Planning an event menu based on all the foods featured in the Netflix series Master of None featuring spaghetti, ice cream sundaes, and Chinese food.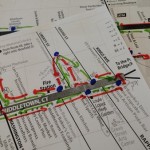 Mapping downtown business, nonprofits, and Wes partnerships for Town Tours, an introduction to Middletown for new students. 
Interviewing Wesleyan professors from many different disciplines for the Engaged Scholarship series.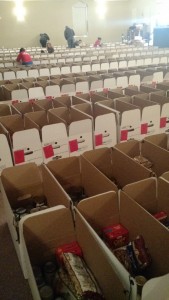 Packaging all the ingredients for Thanksgiving dinner for hundreds of Middletown families through the Middletown Thanksgiving Project.
Working with Diana Martinez and a committee of people from colleges and universities all over Connecticut to plan the 2015 Social Justice Leadership Conference.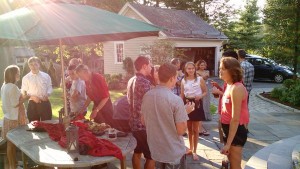 Meeting new students and parent alumni at summer events nearby.
Creating new graphics and promotional materials for the Green Street Teaching and Learning Center. 
It's been a great year so far! The Civic Engagement Fellowship is really what you make of it. You will get to work with great people in the Jewett Center for Community Partnerships, Office of Community Service, Patricelli Center for Social Entrepreneurship, Green Street Teaching and Learning Center, and Center for Prison Education and find unique places to apply your interests and talents. Outside of the job responsibilities, there are lots of opportunities to take advantage of Wesleyan's resources. For example, as staff you can attend some of the workshops and guest speaker events that you skipped as an undergrad. You can enroll in workout classes, join the pool, take free Graduate Liberal Studies courses, meet with the Career Center, attend conferences, and get trained in useful professional schools. In my year as the fellow, I've taken two Wesleyan courses, gone to dozens of talks on a wide variety of disciplines, participated in conferences, and gone to a yoga class! 
The Job Description: 
Reporting to the Director of the Jewett Center for Community Partnerships the Civic Engagement Fellow will work closely with staff and offices across campus, including the Allbritton Center for the Study of Public Life and the Patricelli Center for Social Entrepreneurship, to engage students and support faculty in civic engagement endeavors.
This one-year fellowship provides support for civic engagement activities on Wesleyan's campus.
We are seeking a team player, eager to take on projects that support civic engagement and add to his/her own professional experience.
Specifically, the fellow will:
Manage all communications for Center for Community Partnerships and Patricelli Center for Social Entrepreneurship, including but not limited to the ENGAGE blog, Facebook, Twitter, posters, and sharing information via other Wesleyan channels.
Advise individual students and student organizations interested in service; assess needs, refer to appropriate community or campus partners, organize network meetings, and design activities for related student organizations.
Develop leadership trainings and tools for student leaders and students partaking in service-learning courses.
Assist in the development of initiatives including, but not limited to, student recognition programs and special events such as the Fast-A-Thon, recruitment fairs, and service related speakers.
Coordinate the Civic Engagement Council meetings, record minutes, and provide an on the ground perspective from the students the fellow is advising.
Provide assistance and information keeping for the Civic Engagement Certificate Program.
Assist with maintenance of a comprehensive database of community partners for all civic engagement activities.
Create on-line resources and tools for student leaders and students interested in service,both while at Wesleyan and after graduation.
Coordinate the Office of Community Service student coordinator selection process in Spring semesters.
Support Patricelli Center for Social Entrepreneurship programs as needed; plan workshops related to social impact and/or entrepreneurship.
Assist with developing reports about campus and institutional civic engagement activities; design communications, collect relevant data, and develop reports as requested.
Complete other duties as required including, but not limited to, office and department committees.
This fellowship is not eligible for student loan deferment.
Minimum Qualifications: 
Bachelor's degree and experience working with civic engagement initiatives, community service projects or social entrepreneurship programs.
Demonstrated strong interest and commitment to civic engagement.
Demonstrated ability to collaborate with a range of partners; and creative problem-solving skills.
Excellent listening, oral and written and communication skills.
Excellent organizational and time management skills.
Demonstrated experience working with people from diverse backgrounds.
Demonstrated ability to work on multiple projects effectively and simultaneously in a fast-paced environment.
Proficiency in MS Office Suite of applications including Word, Excel, PowerPoint and Outlook
Demonstrated experience with social media and blogging tools, preferably including WordPress, Facebook, and Twitter.
Preferred Qualifications: 
Experience working in an educational setting strongly preferred.
Wesleyan alumni strongly preferred. 
Check out the whole job description and application info here!