Over spring break, Kai Wes traveled to Silicon Valley to learn from Wesleyan graduates and entrepreneurs. Leah Cabrera, Olivia Chavez, and Fortune Jackson-Bartelmus wrote a reflection on their trip below: 
---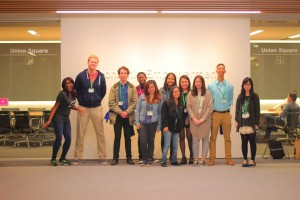 The Silicon Valley trip exposed us to the reality of the tech scene, one where companies have learned to optimize their employees work ethic and figured out how to combine social and work. We spent four days there and will truly keep these experience and memories with us.
Our first day started at Square, DevBootcamp and Spaced out. Many of the facilities have adapted the ideas that most tech companies have been implementing. The space is designed to intentionally promote collaboration among their employees, very exposed and spacious. Each company provided their employees with unlimited meals, dedicated spaces to relax, gym memberships, snack bars, the list goes on. In addition the employees have absolutely flexibility and freedom in how and when you work.
The next day our team visited Stripe Headquarters, Twilio, and IDEO. Stripe is a suite of APIs that powers commerce for businesses of all sizes. Their two buildings felt like home: cozy, open and welcoming. Our tour guide gave us impressive stats on the company as we walked up the stairs, looking at the hundreds of employees intensely focused on their coding. Stripe has an impressive 400 full-time employees (growing fast, hiring ~20 people every two weeks), and offices based abroad in many places: Paris, Berlin, Singapore, and Australia, just to name a few. We could really see the passion each worker had in their work. It was interesting to see how they stressed the importance of enjoying the people they work with, as they all came from diverse backgrounds.
            When we walked into Twilio we first noticed the pizza box on the wall with drawings on it. Those drawings were made by the three founders of Twilio the night before its launch, roughly detailing how the program would run, and what it would look like. Twilio exhibited many of the trends we've been seeing on this trip in how their space was being used. IDEO had a very creative office, which reflected their values of completing creative designs. IDEO is a design and innovation consulting firm. Some of their innovations included a large mechanical flower that opened and shined LEDs based on the dancer's movement under it, the perfect guitar amplifier, a motorized bicycle, a modern school chair (the No Chair), nail polish with an elongated handle to use much like a paintbrush, and an instrument for spinal surgery that increased most areas of efficiency in surgery by over 33% compared to the older instruments. The walls of their space were moveable to adapt to the ever changing projects, even the teams of designers change every 6-8 weeks to make room for new ideas to flourish!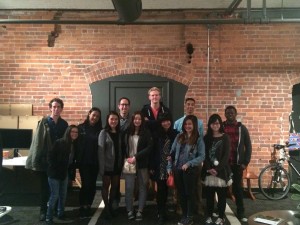 The highlight for many of us on this trip was visiting Facebook and Google Headquarters on Wednesday. We were surprised by the size of both Facebook and Google campuses (both over one mile long). Google was a bit more centralized in terms of the layout of the buildings. There are so many perks at Google and Facebook, from the free meals, free laundry, free massages/mani pedis, a game room, vending machines with apple products to the game room, there was very little that you couldn't find on campus.
At Google, we meet with a Wes alum who works in advertising. He talked about his experience as an American Studies and English major and how he was able to use the soft skills that he learned to pursue a career in business. He talked about the importance of being able to communicate your ideas in a concise way, which is skill that most students have mastered by the time they graduate from Wesleyan. It was great to hear how alumni were able to leverage a Wesleyan degree and use it to acquire new skills.
After our visits, we had dinner with recent graduates back at our AirBnB, the conversation that we had was refreshing. Everyone was honest about their experiences with living and working in the Bay Area. It was really great to gain some insight into what post- Wes life is like, both the positives and the negatives.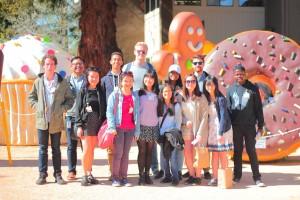 Our trip concluded at Pinterest and the Lending Club. Overall we learned that if you want to be a part of a fast paced, growing, constantly changing and thrilling environment then tech is the place to be. Also it may seem daunting pursuing tech from a school like Wesleyan but going to a liberal arts school teaches individuals how to learn quickly, adapt, communicate and write well, and think critically. If you are trying to get into tech , our recommendation is don't be afraid to reach out to alumni and ask them about their experience and transition from Wesleyan into their workplace. Alumni are eager to help (we got visit every single place on our trip because of Wesleyan alumni)!!! The Silicon Valley trip is one that will resonates with us forever and made pursing this scene a tangible one.