Carlos Eguiluz Rosas was selected to receive an Enrichment Grant from the Patricelli Center for Social Entrepreneurship. With this grant, he participated in an inter-faith service trip over spring break. You can read Carlos' reflection below, read past grantee reflections here, and visit thePCSE website to learn more about all of our grant programs.
---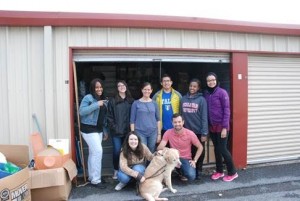 From March 14th to March 19th, I attended the Interfaith Service Trip to Harrisburg, PA. This was my first service trip and I was excited to see what will be in store for me. On my first day, I introduced myself to a crowd of 5 students, 2 religious staff members, and a dog. All 8 of us, including the dog, became the Interfaith group. Some of us knew each other from mass and class, but a few of us were new. Despite our different religions, we all got along like family, especially during the night when we came together to reflect on our faith and what "Faith" meant to us.
On the second day, we drove to a Catholic charity for our first service project; we were going to help teach English to a class of refugees. I was really excited about our first service project because I wanted to help them with their transitions. For some students, "home" was Syria, Nepal, or Cuba, but for others "home" was wherever their family was. I spoke with a man from Cuba who informed me of his current situation and how he had hoped to learn English for employment. Hearing him talk about how he, his wife, and his daughter have trouble settling was emotional for him and me as I too know the how hard it was to leave home in search for opportunities. Once we finished our session, we all departed knowing well that we have helped a group of wonderful people settle in their future home. We then spent the rest of afternoon organizing donations for refugee families. I was amazed by how many donations there were in one storage, ranging from pots and pans to cleaning supplies. We spent about 2-3 hours clearing and organizing donations, and every hour was tiring that the one before. Everyone was helping in their own way for the good of humanity. 
Our second major service project took place in the inner city. Our group volunteered at the Brethren Housing Association where we helped renovate old buildings for single-parent families. We each broke into small groups; some of us worked on the floor while other worked on the walls. Three of us, including me, worked on removing the chimney from all three floors. Removing bricks was the easy part. Walking down three flights of shaky stairs while only holding onto a heavy bucket of red bricks (no handrail) was the hard part. After our group finished, I took some time to reflect on what just happened. I was scared and nervous of what would have happened if I fell…But because I had faith and trusted the Lord with all my heart and soul, I knew that everything was going to be alright. Sometimes I doubted myself of my strength, but the Lord reassured me that if I put my faith on him, he would guide me like the other times in my life. 
On our last work day, before we left, we all the opportunity to attend Jummah Prayer. Attending Jummah Prayer was an enriching experience because it exposed me to another religion, one that is not common back home [Miami]. Every part of the experience was enriching from listening to the sermon to praying. It was amazing to learn that my religion [Catholism] and Islam shared several commonalities. 
To conclude, I am grateful for being part of the Interfaith Service trip, and I am glad to have been surrounded by amazing people.