Check out TRAP House's promotional video.
Last time we updated all of the wonderful people connected with the PCSE, the TRAP House team was gearing up to host our entrepreneurial boot camp, where we invited everyone who participated in our Startup Day Competition to a series of workshops in financial planning, legal compliance, and marketing.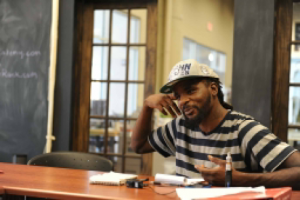 We decided to open our doors to all who attended our Startup Day (not just the winners of the competition) to truly maximize our impact and foster relationships among budding entrepreneurs. You can read more about our reasoning for this decision here.
Saturdays at Boot Camp became the favorite time of the week for members of the TRAP House team. We would start off our day at reSET by gathering together, TRAP House team and TRAP stars alike, and share our highs and lows from the past week, and shortly moved into the curriculum for the day. Topics for Boot Camp included design thinking, value propositions, branding, market research, financial projections, and business models. After team members delivered the lesson, we would field questions about the material and workshop these ideas with each individual TRAP Star.
During the week, the team would with TRAP Stars to translate the work from Boot Camp into practice. Early in the summer, we worked with Gr8, who'll you'll recall from our first blog post, to help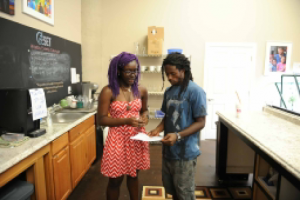 him put together a community cookout in the North End of Hartford. Gr8 is now working on establishing his clothing brand, Divine Veracity. We have also made a successful microloan for a hat-selling venture that one of our TRAP Stars has been working on. Throughout the summer we have been working with a client who wants to start a commercial cleaning service that hires individuals with a felony on their record, and we're continuing this work in the fall.
As the summer has concluded, we are really looking toward the future. We will continue to work with our clients and friends from the summer as they establish new legal ventures. We are currently perfecting our model with all of the hundreds of lessons we have learned from our pilot summer program, and are really excited for what's in store.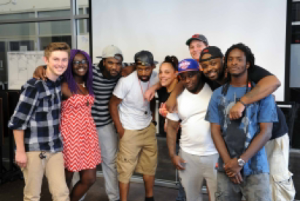 In the fall, we hope to formally incorporate as a 501(c)3 nonprofit, work on formalizing a volunteer program that leverages our networks in Hartford, Middletown, and beyond, and truly increasing our online presence after winning a free website developed by Impact Branding & Design, based in Wallingford.
The #NewHustle never sleeps! So keep up with us on Twitter and Facebook, and look for our new website, which will be launching in late-September.