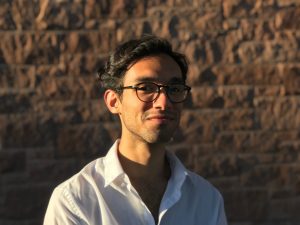 Hello everyone!
I'm Devonaire Ortiz, Class of 2018, and I am one of the Allbritton Civic Engagement Fellows for the Fall of 2017. I am working alongside Rhea, Allbritton's yearlong Fellow, specializing in Marketing, Communications, and Graphic Design.
Alongside
Rhea
, I work at the Allbritton Center supporting civic engagement efforts. For the most part, my role has involved designing posters for upcoming events, promoting those events and other important information across digital platforms and print, and strategic consulting to improve community involvement with the Center. Additionally, I complete ad hoc projects of all kinds as needed. This semester, I am working on organizing a long-term, campus-wide effort to mobilize in response to natural disasters when they hit.
I am the first Fellow to serve for a single semester; once Rhea graduates in December, she will assume the roll full time in the Spring. I will instead focus on finishing my last semester of undergrad as a double major in Government and American Studies and writing my Senior Essay. I am also a Senior Interviewer at the Office of Admission.
Being a Civic Engagement Fellow is particularly exciting for me, as it represents the culmination of my work with the Allbritton Center. I started out as a freshman tutoring with the ASCEND program, drove vans for the Office of Community Service, and interned at St. Vincent de Paul before landing in this role. Now, I am grateful for the opportunity to contribute to every aspect of civic work in the Wesleyan and Middletown communities. It is truly a wonderful thing to have exposure to all of the meaningful work students, faculty, and staff are doing to have a positive impact.
I can also be a resource for anyone in the community interested in getting involved in or starting a project focused on service, civic engagement, or community based work, so please do not hesitate to contact me if you have any questions about doing so. I have enjoyed my work for the Center throughout the semester and I am sure it will only be more rewarding in the second half.