Myanmar: Intersecting Political, Ethnic, and Religious Realities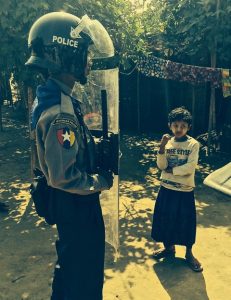 In one of the most rapidly unfolding refugee crises since the Rwandan genocide, approximately 615,000 Rohingya Muslims have fled Myanmar's northern Rakhine State for neighboring Bangladesh. Reports from Rohingya refugees outline a systemic campaign of violence against civilians, with allegations of gang rape, extrajudicial killing, arbitrary arrest, and destruction of property. The UN High Commissioner for Human Rights describes the situation as a "textbook example of ethnic cleansing."
These events are the latest juncture in a decades long history of Rohingya oppression in Myanmar. Jeffrey Stein will describe how we arrived at the current crisis, drawing on issues around Rohingya identity and Buddhist nationalism in Myanmar. Tun Khin will Skype in and will provide a detailed account of the current human rights emergency and will share his findings from a recent trip to the refugee camps in Bangladesh.
Tun Khin is a Rohingya human rights activist and president of the Burmese Rohingya Organization UK (BROUK), a voice for Rohingya people around the world. He is from Rakhine State, Myanmar, where his grandfather was a parliamentary secretary during Burma's democratic post-independence period. Tun Khin has briefed officials on the continuing human rights violations committed against Rohingya people at the U.S. Congress and State Department, British Parliament, European Union, and various UN forums. He is frequently featured in international media, including the BBC, Sky News, Al Jazeera, and the Huffington Post. Tun Khin recently travelled to Bangladesh, where he documented human rights violations committed against the Rohingya by the Burmese Military in Rakhine State. A detailed account of his findings can be found in BROUK's recent report "I thought I would die: Physical evidence of atrocities against the Rohingya."
Jeffrey Stein is a Development Officer at Urban Refugees, a non-profit organization dedicated to supporting refugee rights in urban areas. Throughout his career he has worked consistently on human rights issues in Myanmar. He spent five years working for the Open Society Foundations' Burma Program in New York and Yangon, where he managed the organization's Rohingya grants portfolio. Jeffrey graduated from Wesleyan University in 2010 and has a Master of Public Administration from Columbia University's School of International Policy and Administration.
Tuesday, November 28th, 12:00-1:00, Fries Center for Global Studies Lounge, FISK
Free and open to the public
Pizza will be served

The Right Now! Series presents lectures, workshops, and other events responding to breaking issues in public life, bringing together academic and nonacademic speakers and audiences to consider ideas and events that are of pressing importance.
Sponsored by the Allbritton Center for the Study of Public Life and the Fries Center for Global Studies