In September 2018, the JCCP launched the Student Political Engagement Fund to support students to do political campaign work over Fall Break. Grantees were given up to $500 to do work locally, in their home communities, or beyond. Read other reflections here, and visit the JCCP website to learn more about our other programs.
---
Maya Gomberg '22
Hometown: Newton, MA
Location of Political Action: Middletown CT
Organizations: Fight Back CT, and Emerge Connecticut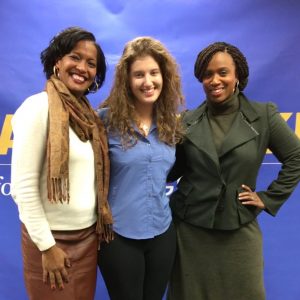 I've been active with political campaigns and organizations for the last few years, so when I got to Wesleyan, it was only natural for me to get involved. Because I was involved with Emerge Massachusetts, I immediately reached out to Emerge Connecticut. Emerge is an organization that helps to recruit, train, and provide a network of support for progressive female candidates running for office. I've taken on a new role in Connecticut by focusing on communications work, helping with our website, graphics, and social media.
In the domain of Fight Back CT, I did a lot of field work. Instead of just making phone calls, as a Fellow I also was given the task of organizing other students to help the campaigns. We have been having phone banks and canvasses and reached hundreds of voters, so please reach out to me if you want to help!
If other students want to get involved, it is SO EASY. I think Wesleyan is full of a lot of passionate activists who are unsure of what to do, but no matter what you do it will be useful. Whether it is through WesDems on Wednesday nights, or through an internship or a friend asking you to tag along, campaigns and organizations need help and are more than happy to help you help them.