Organizing communities. Strategizing politics. From the Arab Spring to Election 2020
with Esam Boraey
In this E2020 Speaker Series event, Boraey will speak about his experience as an activist during the Egyptian revolution of 2011, reflect on his work with the American Muslim Alliance and Connecticut Council on Interreligious Understanding, and offer thoughts on this unique moment in American history.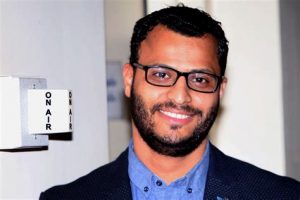 Esam Boraey is a political and human rights activist working for freedom and democracy in the Middle East. He began his career as an activist over ten years ago when he and a group of 6 other youth leaders gathered on the steps of Egypt's Supreme Court, calling for justice, freedom and democracy. This passion led him to play a key role in the Egyptian revolution of 2011, which helped overthrow longtime dictator, Hosni Mubarak. Following the 2011 revolution, Esam worked with international leaders to push for a stable democracy in Egypt. During the Mohamed Morsi presidency, Esam worked for U.S. Agency for International Development and later left the country after being sentenced in Egypt's criminal court to two years in prison for his work for human rights and democratization in the Middle East. Esam then moved to Washington D.C. where he continued his work for human rights, working for U.S. Institute for Peace. Having worked over the years with a number of Civil Society organizations (CSOs) in both the Middle East and the U.S., he has fostered close professional relationships with political leaders throughout the region, and advised policy makers in the U.S. and European Union. He received his MA from Cairo University and has taught classes at Cairo University, the American University in Cairo and Drake University. Esam brings a nuanced perspective to an understanding of Egyptian, Middle Eastern, and Islamic affairs that takes into account the concerns of stakeholders at various levels, both in the Middle East and beyond its borders. Esam services as a board member for several nonprofits internationally, nationally, and locally including the World Affairs Council, the American Muslim Alliance, and Connecticut Council on Interreligious understanding, CCIU.
Esam was honored for his defense of human rights and community service in Egypt, Middle East, and the USA with several awards, such as the Personality of the Year for fighting for human rights in the Middle East by the National Center for Human Rights, David B. Walker award for public service from the University of Connecticut, and the Immigrant of the year from the Connecticut Immigrant and Refugee Coalition, CIRC. He has also received many certificates of appreciation by many organizations in the Middle East and all over the world for his work.
Tuesday, September 8th, 6:30-8:00 pm
Virtual, via Zoom
Free and open to the public
RSVP here: https://forms.gle/oU8BMVjgAi47MNgMA
The E2020 Speaker Series brings together community organizers, activists, and changemakers to talk about the 2020 election and movement-building.