A group of faculty, staff, students and community partners are undertaking a nonpartisan mission to make voting a part of the culture both within SUNY Cortland and the Cortland County community.
The initiative, Cortland Votes, is part of the nationwide All In Campus Democracy Challenge, which strives to involve college students in American democracy and instill the values of lifelong participation in the political process.
The main goal of the Cortland Votes project is to increase student interest in voting, elections and civic engagement in college and after.
Read the full article here: http://www2.cortland.edu/news/detail.dot?id=33d3d15b-7366-4595-9819-cdd9a68d93fe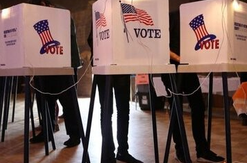 As students around the country find meaningful ways to participate in American civic life, we will share inspiring stories of engagement and ideas for best practices from across the institutions that have committed to the principles of Engage 2020.