The Jewett Center for Community Partnerships is excited to announce that Shirley Sullivan '21 has joined the Center for Prison Education team as the CPE Fellow.
Shirley joined CPE upon graduating from Wesleyan University in 2021, where she majored in Dance and Psychology with a minor in Education Studies. In the summer before her sophomore year, Shirley interned with CONTRA-TIEMPO, an activist dance theater company as part of her Dancelink Fellowship. At the end of her undergrad education, Shirley completed a capstone project where she worked with previously incarcerated individuals to create a dance performance in which their experiences were transformed into movement.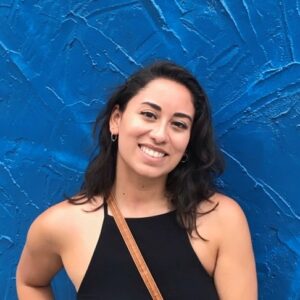 This Q&A provides an opportunity for us to learn more about Shirley and her new role as the CPE Fellow:
What sorts of things were you interested in as a student at Wesleyan?
I was very interested in the dance scene on campus, both departmentally based and student clubs/groups. I was a member of Caliente, the Latinx dance group, as well as a choreographer/performer in Terpsichore. Academically, I was interested in Astronomy, even though I didn't major in it. I took one introductory course my senior year and fully believe I would have been a major if I took it earlier in my college career!
What got you interested in prison education?
Coming from a low-income, minority household, I was exposed to the realities of incarceration from a young age through relations I had in my community and home. However, it wasn't until I began working on my Capstone Project, 'Breaking the Cycle: The Lived Experiences', as a senior that I realized how much passion I held for the topic. I believe that rehabilitation is a largely underfunded and underrated aspect of the incarceral system in the US. Education is one way to be able to give incarcerated people a chance to live a better life upon release.
How do you think your experience with activist dance and your capstone project will guide your work with the CPE?
I actually believe that my work with CPE will have a much larger influence on my dancework moving forward than the other way around! While my activist dance background increased my understanding of restrained bodies and the power of bodily autonomy, a lot of my work is influenced by what I see around me and the people I am surrounded by. Keeping key social justice themes in my work is something I intend to continue, and the only way to successfully achieve that is by increasing my exposure and knowledge. I know I will always have more to learn, and the best way for me to learn is by getting in the nitty-gritty of it all.
What excites you about the Fellow position?
I am most excited by the ability to be able to work with the CPE students and be an aid in providing them with a meaningful education experience. A pro about the fellow position is the connection between tutors, professors, and students. This gives me a chance to be able to connect with many amazing people, something I already value from this job so far.
What do you do to relax or have fun?
I'm a very active person and love being outside, so going on runs or hiking is something I thoroughly enjoy! I also am always working on furthering my learning, and am taking a GLS course this semester as well as participating in dance classes. In the little remaining spare time I have, I always try to spend it with my friends and family, since living through a pandemic really emphasized the importance of these human connections for me.