Date/Time
Date(s) - 05/16/2016 - 05/20/2016
All Day
Location
PLEN
Categories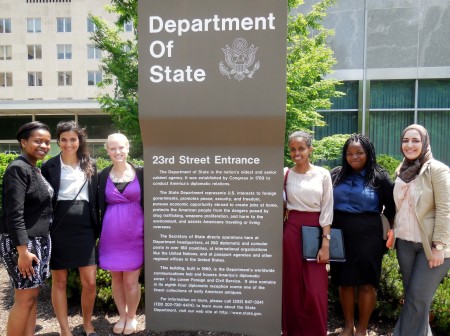 College women will learn about foreign policy from distinguished women whose work makes a global impact during this week in Washington, DC. Students will hear from leaders advocating for humanitarian issues, citizens' rights, international security, and international development in an increasingly interconnected world.  See the 2015 seminar agenda.  See the infographic on the students who attended the 2014 seminar.
Dive into international policy issues: Participate in sessions where you will learn issue-specific information about an array of international policy issues from women professionals working in the field. Learn how to break into a policy career in these fields and get advice on which post-graduate degree may help you achieve your career goals. 
Expand your network: Seminar speakers are Congressional leaders; diplomats; State Department leaders; officials in international organizations; think-tank researchers; and corporate and nonprofit advocates. Visit their offices to see where policies are made and ask questions about their daily work and career paths. Attend our annual Women in Global Policy Networking Reception to build your foreign policy network.
Develop your professional skills: Edit your résumé to land your first job or internship with the advice of a professional. Learn how to maintain the connections that you make during the seminar and how to negotiate your salary from a career coach.
Register here.