The Patricelli Center for Social Entrepreneurship presents 
CORPORATE SOCIAL RESPONSIBILITY AND STRATEGIC PHILANTHROPY: STORIES FROM THE FIELD
A Talk, Lunch, and Q&A with Anne Lebleu '00
Thursday, February 26
12-1 p.m.
Allbritton 311
Lunch will be provided for those who register by February 25.
During this conversation-style workshop, College of Letters alumna and philanthropy cross-trainer Anne Lebleu will talk about her career in corporate social responsibility, foundation consulting and management, and other social sector work.
This lunchtime event will be relevant for students with a wide variety of academic interests, extra-curricular passions, and career aspirations.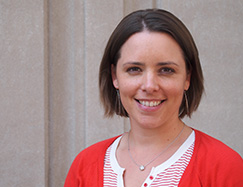 Anne Lebleu manages the philanthropic strategies and operations of Arabella's family and individual clients and provides essential strategic grant-making knowledge and expertise. Currently, she oversees the daily operations and grant-making activities of a foundation focused on environmental health and green chemistry, and is working with a family on developing a philanthropic strategy for barriers to K-12 education. Anne works with both new and established individual philanthropists and foundations to set up and streamline their operations, build their grant-making strategies, and develop their grant-making portfolios. She has conducted research on prize philanthropy and early childhood education and led external scans of fields such as green chemistry and childhood obesity. She has also facilitated family foundation meetings focused on next-generation inclusion, governance best practices, and family legacy exercises for foundation board members, and written operational and strategic succession plans for family clients.
Prior to joining Arabella, Anne was executive director of the James Marston Fitch Charitable Foundation, which encourages and supports the study of problems encompassed by the preservation and rehabilitation of America's historic, architectural, and urban heritage. At Rafael Vinoly Architects, she managed the launch of the book Think New York: A Diary of Ground Zero, which documented the firm's involvement in the Ground Zero master planning competition. Anne recently served on the 2012 grants committee for the French Embassy in Washington, DC, helping to review proposals on French-American partnerships among NGOs working internationally. She is also a member of the Facilities and Fine Arts Committee of the National Cathedral Chapter and the Vanguard Chapter of the Society of Fellows at the Aspen Institute.
Anne is a 2006 recipient of a Getty Graduate Internship grant, which allowed her to pursue her interests in arts and cultural philanthropy at the J. Paul Getty Trust in Los Angeles. She has a BA from the College of Letters at Wesleyan University and an MS from Columbia University's Graduate School of Architecture, Preservation and Planning.