The Patricelli Center for Social Entrepreneurship awards annual seed grants to fund the launch or early stage growth of a Wesleyan-connected social enterprise, project, program, or venture. Each grantee reports back with blog posts and photos. Here's the second report from Brent Packer '15, founder of Potlux, the first online community where collegiate sustainability initiatives are effectively aggregated and shared. Also on the Potlux team are Aaron Rosen '15, Jared Geilich '15, Gerard Liu '15, Keren Reichler '16, Cassia Patel '16, Ellen Paik '16, and Gabe Frankel '15. 
You can read Potlux's first update here and other grantee reports here.
---
Hello everyone,
A lot has happened and continues to happen in the world of Potlux.
We used part of our Seed Grant to bring our team together geographically. Marguerite and I spent 3 weeks in Providence together working in coffee shops, libraries, and living rooms. Though it may seem insignificant, working together in-person is a tremendous boon to productivity. Rather than build up a day's worth of discussion into a 45-minute Skype call, we could have natural problem-solving discussions with many high fives afterward. Priceless.
Our biggest project has been our first outreach push. It's a combined research project with Marguerite's sponsored Brown University research. We can't yet give too many details since we're in the middle of the campaign right now. Here's what we can share:
The United Nations Environment Programme is one of our close partners.
Sustainability professionals in venture capital, academia, and the social sector are generously providing their assistance.
We've been sending a whole lotta emails. Many emails. Buckets of emails.
I wish I could give more insight, but that'll spoil the surprises 🙂 For now, I'll leave you with this picture of a typical day in the Potlux Providence headquarters.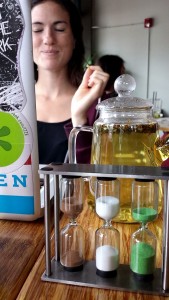 Until next time,
Brent